Over-the-Counter Medication Donations Needed for Honduras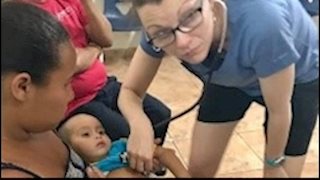 WVU Nursing students to provide primary care services in remote areas of Honduras
Nurse Practitioner and DNP students from the WVU School of Nursing will provide primary care services in remote areas of Honduras in April. The team members pay their own way and bring all medications and supplies needed for the week.
The students rely on medication donations to help meet the needs of the patients they will care for. Items not donated are purchased by the team.
How you can help:
If you would like to help contribute and play an important part in providing much-needed health services to those who would not otherwise have access to care, please consider donating any of the following.
The team needs to provide at least 1,000 tablets of the following:
Omeprazole 20 mg
Cetirizine 10 mg
Ranitidine 150 mg
Ferrous sulfate 325 mg
Acetaminophen 80 mg chewable
Prenatal vitamin (any brand)
Diphenhydramine 50 mg
Adult multivitamin (any brand)
Loratadine 10 mg
Children's chewable (not gummy) vitamins
The team also needs to provide these medications and items:
Bismuth subsalicylate 262 chew tabs (100 tabs minimum)
Loperamide 2 mg caps (300 caps minimum)
Docusate sodium (300 minimum)
Infant multivitamin drop (24 bottles)
Diphenhydramine cream (15 tubes)
Lice shampoo
Condoms
Hemorrhoid cream (10 tubes)
Vaginal yeast treatment (10)
Triple antibiotic ointment cream (20 tubes)
Pregnancy tests - (Need 50 minimum; $1 at the Dollar Store)
Deadline: Donations by noon, March 7, School of Nursing, HSC 6th floor.
Please note: Brand is not important. However, please check the expiration date to ensure it is good through at least December 2018.
For more information, please contact Emily Barnes, Clinical Associate Professor, WVU School of Nursing.