Papa John's donates $10K to research at WVU Cancer Institute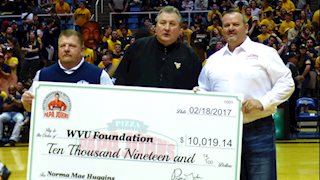 MORGANTOWN, W.Va. – Any way you slice it, $10,019 is a lot of dough. That's how much money Papa John's donated recently from its online pizza promotions to the Norma Mae Huggins Cancer Research Endowment Fund at the WVU Cancer Institute.
The pizza chain ran two online offers at Papa John's restaurants statewide during last year's WVU men's basketball season – one for employees of WVU Medicine facilities across West Virginia and a second one for all of its customers.
"We are always more than happy to show appreciation to our customers and support a worthy cause," Bryan Shaffer, chief operating officer for PFC, Inc., said. "It's important to us to be engaged in the community and to team up with folks like WVU Coach Bob Huggins to help those fighting cancer in our state."
"I'm very grateful to Bryan and Papa John's for their generous gift," Huggins said. "It will be put to good use at the Cancer Institute for research studies that will advance cancer care and help West Virginians."
Coach Huggins established the Norma Mae Huggins Cancer Research Endowment in memory of his mother, who passed away in 2003 following a long battle with colon cancer. The Endowment Fund supports cancer clinical trials, targeting many types of the disease that are common among residents of the Mountain State, which has one of the highest cancer mortality rates in the nation.
To read more about the cancer research studies offered through the WVU Clinical Trials Research Unit, see wvucancer.org/ctru.
Photo caption: WVU Men's Basketball Coach Bob Huggins (center) receives a check for more than $10K for his cancer research fund at the WVU Cancer Institute from Bryan Shaffer, chief operating officer for PFC, Inc. (left) and Mark Howe, vice president of operations for Papa John's in West Virginia (right).
For more information: Amy Johns, Director of Public Affairs, 304-293-7087