Pathologists' Assistant program graduates honored in December ceremony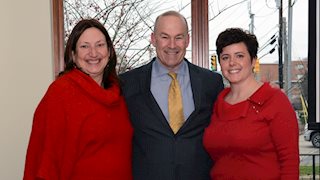 The WVU Pathologists' Assistant Program hosted family and friends at a graduation brunch on Friday, December 18 at Erickson Alumni Center prior to receiving their diplomas at the University graduation ceremony held at the Coliseum.
The program graduated 15 students who are starting in Pathologists' Assistant positions all over the United States. They were joined by Clay Marsh, M.D., vice president and executive dean for Health Sciences and MaryBeth Mandich, Ph.D., associate dean of Professional Programs, who gave the students encouragement and words of wisdom as they leave to embark on their future careers.
Michelle Costas, Program Director, introduced each student and presented them with a small gift from the program as a momento of their time spent at WVU. Students graduating include: Brittany Bracklein; Tia Burford; Lauren Leverett; Michael Mohoroski; Kira Oshaben Kristen Petroplus; Rebecca Raese; Rachel Ravotti; Aimee Ripley; Jessica Ritzman; Michael Sarrett; Trista Skedel; Amy Smith; Lauren Stone; and, Michael Weitzel.