Patient advocate and leading educator to speak at WVU on "The Power of One"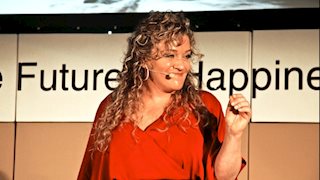 Patient advocate and leading education for the power of passionate care, Allison Massari, will speak at WVU with her powerful patient-centered lecture, "The Power of One," on Nov. 8, 2016 from 9:00 to 10:00 am in Okey Patteson Auditorium.
A passionate voice for preventing and alleviating burnout in medical professionals, she has been named one of the Top Ten Best Speakers for motivation by Meetings and Conventions Magazine.
Her singular history makes her uniquely qualified to speak to healthcare providers today. As the daughter of a nurse and an oncology surgeon, Allison grew up immersed in the field of medicine. From the age of six she shadowed her father on his rounds as he visited his surgical patients at hospitals. She fondly remembers witnessing her father's consistent, warm, and compassionate care, and was inspired to work and intern in hospitals and medical office settings.
Then, at age 32, her life was turned upside down by a tragic event that caused her to spend collectively over 400 days in physical therapy centers, hospitals, and doctors' offices as a patient.
Allison's story is more than just one of survival. It is a story of resilience, courage and the rigorous pursuit of hope. It is a story of collaboration among teams of medical personnel, and how their kindness, determination, and compassion changed her life, and built a foundation for healing.
WVU Medicine's Center for Education and Organizational Development (CEOD) is providing the seminar.
Please reserve your seat in Netlearning, or contact CEOD at 304-598-4063 with questions.