Pediatric dentistry brightens 92 smiles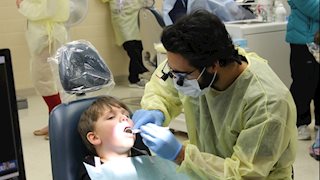 Give Kids a Smile day successful at WVU School of Dentistry

Things get a bit hectic when you rotate nearly 100 children in and out of the WVU Dental Pediatric Clinic in a day.
It's for a cause worth smiling about.
West Virginia University School of Dentistry faculty, staff and students celebrated Give Kids a Smile day Friday, February 9, 2018.
At total of 92 children, from West Virginia counties including Monongalia, Marion, Lewis, Preston and Harrison and from southwestern Pennsylvania, were able to keep the appointments they made for free dental exams for anyone from a year old to 17 years old.
Click to see pictures from the day's event.
When they turn one they should be here just getting affiliated with the dental office. If they come in later, they could be nervous," explained Tim Hoover, a 4th-year dental student who volunteered to work with children and their families.
The American Academy of Pediatric Dentistry and the American Academy of Pediatrics recommend that children see a dentist after they get their first baby tooth and no later than their first birthday. An early visit enables a dentist to determine the child's risk of cavities so that preventive action can be taken before the first cavity appears.
Dental hygiene student Carrie Brescoach, slated to graduate in the spring, has already completed 6 weeks of work in a rural clinic as part of graduation requirements. She said volunteering for Give Kids a Smile day is just another opportunity to brighten smiles and gain experience. It is one of the many times WVU School of Dentistry coordinates to make sure dental and dental hygiene students work hand-in-hand.
"A day like today is a really good experience for us to give us a little practice on what it might be like in a private practice and working with dental students."
The free exams provided more than $100 worth of services for children.