Photo gallery: Take Your Child to Work Day 2017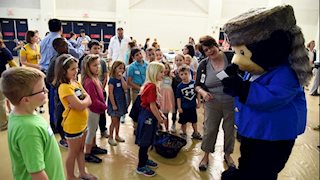 Around 90 children, most aged seven to 12, attended WVU Medicine's second Take Your Child to Work Day, organized and hosted by the Human Resources Division and held at the WVU Student Recreation Center.
While there, children got to slap paws with Monti, the Friends of WVU Hospitals mascot, and Cooper, the mascot of the West Virginia Black Bears baseball team; play games; explore an ambulance; and learn about health and healthcare careers through interactive learning activities and much more.
To see a CONNECT photo gallery from Take Your Child to Work Day, click here.
After a light breakfast, the children heard from Albert L. Wright, Jr., president and CEO of WVU Medicine-WVU Hospitals, and surgeon Gregory Schaefer, DO. Some of the other health professionals who spoke with the children at interactive displays were a nurse, pharmacist, security guard, rehab tech and more.
The HR Division created the event to showcase WVU Medicine employees as role models and to inspire the children to strive to attain their full potential.