Physicians named to leadership roles at Cancer Center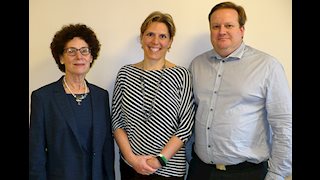 Vice President and Executive Dean for Health Sciences Clay Marsh, M.D., has named a team of physicians to oversee all clinical programs and activities at the Mary Babb Randolph Cancer Center (MBRCC) at West Virginia University.
Hannah Hazard, M.D., has been named surgeon-in-chief and director of clinical services, and Michael Craig, M.D., will serve as the Cancer Center's physician-in-chief of oncology. Geraldine Jacobson, M.D., chief of radiation oncology for WVU Healthcare, has also been named physician-in-chief of radiation oncology for the Cancer Center. Pictured, from left, are Dr. Jacobson, Dr. Hazard and Dr. Craig.
Scot Remick, M.D., Cancer Center director, said the new leadership structure will augment the excellent cancer care available at WVU. The members of the leadership team have already had tremendous impact on scores of patients, he said, adding, "The reputation that we have at MBRCC as a place where patients can expect both the highest quality of cancer care and an atmosphere of safety, quality and cutting-edge clinical care is due in large part to their work and the work of those they lead."
Craig joined the faculty in 2006 and has led the Cancer Center's Alexander B. Osborn Hematopoietic Malignancy and Transplant Service since 2009. He is a graduate of the WVU School of Medicine and completed postgraduate training at WVU and Stanford University.
Hazard is also a graduate of the WVU School of Medicine and completed her training at WVU and Northwestern University. She has been a faculty member since 2007 and was named interim chief of surgical oncology in 2011. She also serves as assistant dean for admissions in the School of Medicine.
Jacobson joined the faculty in 2012 as the founding chair for the Department of Radiation Oncology. Jacobson completed medical school and residency at the University of Utah, an M.B.A. degree from the University of Chicago and an M.P.H degree from the University of South Florida. She is member of the Board of Directors for the American Society for Therapeutic Radiology and Oncology.