Potomac State and West Virginia University announce plans to offer Bachelor of Science in Nursing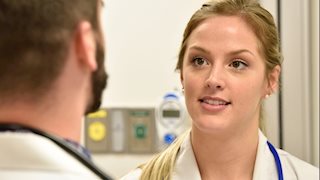 West Virginia University's (WVU) Potomac State College (PSC) is pleased to announce the official signing of the Memorandum of Understanding between the WVU School of Nursing and PSC to offer the Bachelor of Science in Nursing (BSN) degree program on the Keyser campus. The School plans to begin offering the four-year academic program beginning in fall 2018, upon approval from the West Virginia Board of Nursing. The signing will take place on June 29, 2017 at 10 a.m. in the Davis Conference Center.
Incoming freshmen may enroll in the pre-nursing program this fall. It is anticipated students will be able to apply to the WVU School of Nursing's BSN program during the spring semester. Once admitted to the program, students will be part of a 24-student cohort with all classes for the four-year degree available on the Potomac State College campus in Keyser, West Virginia.
"This is a great example of the many student-centered opportunities that have developed by being a part of the West Virginia University system. The Bachelor of Science in Nursing degree is a program that students and healthcare providers in this area have wanted for several years and I'm so pleased that we'll be able to address the needs of the region by offering such a high-quality program," said Potomac State College Campus President Jennifer Orlikoff.
The School of Nursing's BSN program is recognized by healthcare agencies as providing students an excellent preparation for the nursing profession. The School boasts nearly 100 percent job placement, more than $1.75 million in research awards and grants, and pass rates for the national licensure exams are 12 percent above the national average. This same standard of quality will continue at PSC with WVU School of Nursing professors instructing students on the Keyser campus.
"This is another important step in providing more educational opportunities for future nursing students in and around West Virginia. Bringing our undergraduate program to our Potomac State campus allows us to meet the demands of students while also helping to address the critical nursing shortage in our nation. We are excited about this partnership, and we look forward to continuing to build upon our tradition of academic excellence on this campus," said Tara Hulsey, dean of the WVU School of Nursing.
"I'm very excited that our campus is able to offer the BSN program here at Potomac State. I believe this program provides a much-needed avenue into the field of nursing for the students and families living in our community and region," said Sheri Chisholm, Ph.D., assistant professor of biology.
Students will also have the benefit of learning in a state-of-the-art skills lab and simulation facility where they'll be able to practice patient care in a multitude of medical scenarios. Classrooms and laboratories are currently being renovated and will be housed in a wing of the J. Edward Kelley Center.
The curriculum in the first year includes classes in biological, physical, and social sciences as well as the humanities. Upon completion of all pre-requisite classes, students will take six semesters of clinical nursing classes, along with completing a rural clinical practice during their senior year.
BSN graduates are in great demand, and professional opportunities await those who dedicate their focus toward the rigors of the shifting healthcare environment.
"A career in nursing offers many different opportunities: hospitals, community health, long-term health care facilities, schools, and rehabilitation facilities are just a few of the diverse occupations in the nursing field," stated Potomac State College Nurse Cherise Southerly, RN, BSN.
According to a Nursing Supply and Demand study at Georgetown University's Center on Education and the Workforce, 1.6 million job openings for nurses are projected through 2020.
For more information: Tara Curtis, WVU School of Nursing, 304-581-1772