Primanti Bros. partners with Coach Bob Huggins to benefit cancer patients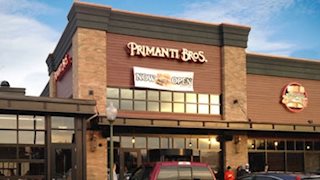 MORGANTOWN, W.Va. – Primanti Bros. is partnering with WVU Men's Basketball Coach Bob Huggins for a fundraising event for the Norma Mae Huggins Cancer Research Endowment Fund that Coach Huggins created at the WVU Cancer Institute.
The restaurant group will kick off its Hometown Edge fundraising program at three Primanti Bros. locations – Morgantown, Clarksburg, and Wheeling – in May and June. The first event will be at the Morgantown Primanti Bros. from 5 to 6 p.m. on Monday, May 22. Coach Huggins will be there to talk with fans and discuss his fund.
Huggins will also attend the Clarksburg Primanti Bros. event at 8 p.m. on Tuesday, May 23, and the Wheeling Primanti Bros. event at 4 p.m. on Monday, June 12.
At each of these events, Huggins will hand out Hometown Edge cards. Every time Primanti Bros. customers use a Hometown Edge card at any of the three participating restaurants in West Virginia, 10 percent of the purchase will be donated to the Norma Mae Huggins Cancer Research Endowment Fund. The program will run for one year.
"We couldn't be more excited to partner with Coach Huggins and the great work of the Norma Mae Huggins Cancer Research Endowment Fund," Stan Weinstein, operations director of Primanti Bros., said. "Coach Huggins is an example of what it means to truly embrace community and work toward a common goal. Primanti Bros. has built our business for more than 87 years on partnering with the community and helping to do as much good as possible — and we're excited to continue that work with Coach Huggins and all of the Mountaineer family."
Primantis will also raffle prizes and donate a portion of sales from the Morgantown event to the Huggins Fund.
"I'm very grateful to Primanti Bros. for being so community-minded and supportive of important cancer research studies underway at the Cancer Institute," Huggins said. "I look forward to working with their restaurants and spreading the word about how together we can all play a part in helping to find better treatments for the thousands of people in our state who are battling cancer."
Named in memory of Coach Huggins mother, the Norma Mae Huggins Cancer Research Endowment Fund, supports clinical cancer research, targeting many types of the disease that are common among residents of the Mountain State, which has one of the highest cancer mortality rates in the nation.
For more information about the Huggins Fund, see http://wvucancer.org/give.
For more information about Primanti Bros., see http://primantibros.com.
For more information: Amy Johns, Director of Public Affairs, 304-293-7087