Back to

News
Public Health students, faculty participate in WV Rural Health Conference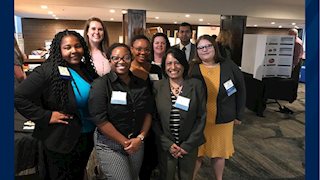 The West Virginia University School of Public Health was well represented at this year's West Virginia Rural Health Conference. Attendees at the 27th annual event heard from both faculty and students throughout the four-day conference.
In his keynote address, Department of Social & Behavioral Sciences Associate Professor Alfgeir Kristjansson, PhD, discussed substance use prevention using the ICE Collaborative model. The ICE Collaborative integrates substance abuse prevention activities for youth into local communities, focusing on building local capacity and infrastructure, with the expectation that the locally-tailored approach will decrease rates of youth substance use and foster community resilience.
Office of Health Services Research Director and Research Assistant Professor Adam Baus, PhD, and Research Assistant Professor Samantha Shawley-Brzoska, PhD, presented about WV Health Connection. The purpose of WV Health Connection is to improve patient population health outcomes through technical assistance, training, information sharing and data transfer that better enable clinical and community linkages for chronic disease prevention and control. Baus also participated in a presentation about evaluating practice-based research opportunities.
During the poster sessions, Ranjita Misra, PhD, professor in the Department of Social and Behavioral Sciences, presented "Community Outreach to Improve Diabetes Screenings in Rural and Underserved communities" in collaboration with the WVU School of Medicine, School of Pharmacy and Health Sciences & Technology Academy. Current students Damaris Bell, Ashley Harris, Marvina Jones, Raihan Khan and Brittany Smith were also able to present their work at the conference during the poster session.
A student in the PhD in Public Health Sciences program, Khan presented his work on predictors of diabetes risk perception among college students. The student group consisting of Bell, Harris, Jones and Smith were joined by recent alumnae Krystal Capers and Sara Nayeem to present their research funded by the WVU Public Health Training Center (PHTC). In addition to research funding, PHTC provided students with a stipend to cover registration and travel costs. Under the supervision of Misra, who also serves as the PHTC director, the center offers workforce training and continuing education for working professionals and experiential learning opportunities for students.
Sponsored by the West Virginia Rural Health Association, the annual conference took place October 8-11 in Huntington, W.Va. The only conference in the state focusing on rural health, attendees are provided with education and information about innovation, best practices and leadership in rural health. This year's theme centered on "Country Roads: Moving WV Rural Health Forward."
-WVU-
jw/10/31/19
CONTACT: Nikky Luna
WVU School of Public Health
304.293.1699; nikky.luna@hsc.wvu.edu