Back to

News
Public Health undergraduate student presents research at international summit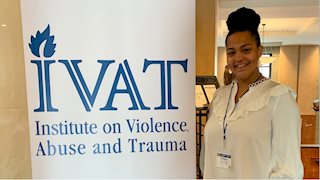 West Virginia University School of Public Health senior Brittany Smith is no stranger to research. Now in her final semester before graduation, Smith's passion for research has taken her to rural communities in Appalachia, Capitol Hill and even Naples, Italy.
Most recently, Smith's research ambitions led her to San Diego, Calif., for the 24th Annual International Summit on Violence, Abuse & Trauma: Across the Lifespan. Smith presented her research, titled "Adverse childhood experiences and trauma in females who misuse substances and their children: a case-control study in West Virginia," during the poster session and welcoming reception alongside more than 70 presenters from around the world.
"The goal of my research is to provide evidence for a dual treatment model targeting women with substance use disorder and their children. The traumatic experiences of parental substance use are often ignored, and children of substance abuse crises suffer in silence. The suffering lasts well into adulthood as trauma manifest in physical and mental diseases. Mothers want improved relationships with their children but treatment often does not make room for that or address the stresses of being a mother for these women, potentially leading to relapse," Smith said.
Smith had the opportunity to speak with one of her research role models, Dr. Vincent Felitti. A renowned researcher and expert on childhood trauma, Dr. Felitti is co-principle investigator on the Kaiser Permanente Medical Care Program and the Center for Disease Control and Prevention's Adverse Childhood Experiences (ACE) Study.
"Hearing his expertise and his thoughts on what the future of the field should look like was a highlight of the Summit for me," she said. "Speaking with him was an educational opportunity in itself. His advice has already impacted my future work."
Her experience with Dr. Felitti is just one example of what the summit, hosted by the Institute on Violence, Abuse and Trauma, aims to achieve. The event is unique in that it welcomes researchers, practitioners, advocates, survivors and front-line workers from across all disciplines to share information, examine controversial issues and engage in difficult discussions.
And, Smith is accustomed to such collaboration as an undergraduate student in the School of Public Health. For her research, she worked alongside mentors and co-authors Michael Brumage, MD, MPH, School of Public Health Preventive Medicine Residency Program director and WVU Injury Control Research Centermedical officer, and Keith Zullig, PhD, MSPH, School of Public Health Department of Social and Behavioral Sciences chair and professor and WVU Injury Control Research Center associate director.
Smith said the summit was a great addition to her courses, allowing her to delve deeper into a topic that interests her the most. Since her return, she has been able to apply what she learned to her ongoing research and coursework.
Up next, Smith is taking her research on intimate partner relationships and substance use behaviors to Philadelphia for the American Public Health Association's annual meeting and expo, Nov. 2-6.
-WVU-
jw/10/28/19
CONTACT: Nikky Luna
WVU School of Public Health
304.293.1699; nikky.luna@hsc.wvu.edu