Quality Service Award recipient announced at Berkeley Medical Center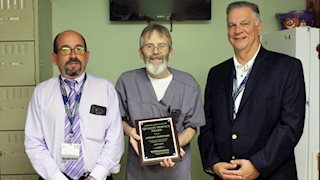 MARTINSBURG, W.Va. – Steve Christman, respiratory therapy, was recently named WVU Medicine Berkeley Medical Center's Quality Service Award winner for March 2018.
Each month, the hospital's Service Award committee selects a Quality Service Award recipient. Christman was chosen because he is so compassionate when caring for his patients. As the daughter of one his patients stated, "He took his time to listen to our situation when my mother, who has COPD, was admitted for a serious illness. He made us feel as if he truly cared and understood. Words cannot describe how comforting he was to us."
Criteria for selection as a Quality Service Award recipient include demonstrating a consistently high level of productivity and quality of work along with a high degree of initiative in performing work responsibilities; displaying exceptional dependability; exhibiting effective relationships with others; displaying a commitment to service and serving the Berkeley Medical Center community; and meeting the criteria for the system's mission, vision, and values.
Nomination forms for the Quality Service Award are available at locations throughout the Berkeley Medical Center campus. Anyone who witnesses an employee displaying outstanding service is encouraged to complete and submit a nomination form.
For more information: Teresa McCabe, Vice President of Marketing and Development, 304-264-1223