Back to

News
Quality service award recipient announced at Berkeley Medical Center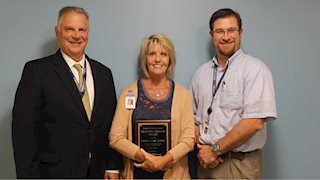 MARTINSBURG, W.Va. – Joni Murphy, Facilities, was recently named WVU Medicine Berkeley Medical Center's Quality Service Award winner for June 2019.
Each month, the hospital's service award committee selects a Quality Service Award recipient. Murphy was nominated by a co-worker who described her as creative, dedicated and engaged.
"Joni does an outstanding job handling a multitude of responsibilities assigned to her by more than one manager, and she keeps things running smoothly in the very busy Facilities Department. Joni is an integral part of the continuing beautification project on our campus. Every spring and summer, I look forward to seeing the blooming flowers that are the realization of Joni's landscaping creativity. During the holidays, it is easy to get into the spirit of the season with the beautiful decorations that Joni coordinates for the enjoyment of our patients, visitors and staff. Joni has a ready smile for everyone she greets," the co-worker wrote.
Criteria for selection as a Quality Service Award recipient includes: demonstrating a consistently high level of productivity and quality of work along with a high degree of initiative in performing work responsibilities, displaying exceptional dependability, exhibiting effective relationships with others, displaying a commitment to service and serving the Berkeley Medical Center community, and meeting the criteria for the system's mission, vision and values.
Nomination forms for the Quality Service Award are available at locations throughout the Berkeley Medical Center campus. Anyone who witnesses an employee displaying outstanding service is encouraged to complete and submit a nomination form.