Quality Service Award recipient announced at Berkeley Medical Center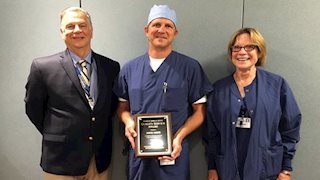 MARTINSBURG, W.Va. – Jason White, C.R.N.A., anesthesia, was recently named WVU Medicine Berkeley Medical Center's Quality Service Award winner for June 2016.
Each month, the Hospital's Service Award Committee selects an employee to receive the Quality Service Award. White was nominated because of the way he handled the care of a pediatric patient who was having difficulty with IVs. According to colleagues, Jason came in on-call and obtained access while keeping the patient and family confident in their care.
Criteria for selection as a Quality Service Award recipient includes: demonstrating a consistently high level of productivity and quality of work along with a high degree of initiative in performing work responsibilities; displaying exceptional dependability; exhibiting effective relationships with others; displaying a commitment to service and serving the Berkeley Medical Center community; and meeting the criteria for the University Healthcare mission, vision, and values.
Nomination forms for the Quality Service Award are available at locations throughout the Berkeley Medical Center campus. Anyone who witnesses an employee displaying outstanding service is encouraged to complete and submit a nomination form.
Photo caption: WVU Medicine Berkeley Medical Center's June Quality Service Award winner is pictured receiving his award. Left to right: Anthony P. Zelenka, president/chief executive officer for WVU Medicine University Healthcare; June QSA Winner Jason White; and Linda Jones, assistant chief CRNA.
For more information: Teresa E. McCabe, University Healthcare Vice President of Marketing and Communications, 304-264-1223