Quality Service Award recipient announced at Berkeley Medical Center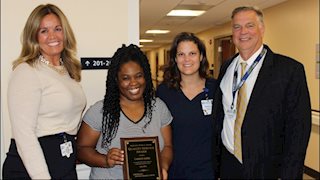 MARTINSBURG, W.Va. – Camille Gibbs, PCU/telemetry, was recently named WVU Medicine Berkeley Medical Center's Quality Service Award winner for July 2016.
Each month, the Hospital's Service Award Committee selects an employee to receive the Quality Service Award. Gibbs was selected because of her eagerness to help and her phenomenal bedside manner and way with patients.
Criteria for selection as a Quality Service Award recipient includes: demonstrating a consistently high level of productivity and quality of work along with a high degree of initiative in performing work responsibilities, displaying exceptional dependability, exhibiting effective relationships with others, displaying a commitment to service and serving the Berkeley Medical Center community, and meeting the criteria for the University Healthcare mission, vision, and values.
Nomination forms for the Quality Service Award are available at locations throughout the Berkeley Medical Center campus. Anyone who witnesses an employee displaying outstanding service is encouraged to complete and submit a nomination form.
Photo caption: WVU Medicine Berkeley Medical Center's July Quality Service Award winner is pictured receiving her award. Left to right: Samantha Richards, vice president/chief nursing officer; QSA Winner Camille Gibbs; Adriana Palmer, PCU nursing director; and Anthony P. Zelenka, president/chief executive officer.
For more information: Teresa E. McCabe, University Healthcare Vice President of Marketing and Development, 304-264-1223