Quality Service Award recipient announced at Jefferson Medical Center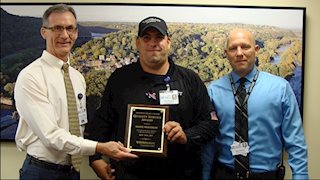 RANSON, W.Va. – Daniel Woodruff, security officer, was recently named WVU Medicine Jefferson Medical Center's Quality Service Award winner for the second quarter 2017.
According to colleagues, Woodruff assisted a patient and his wife who were having car trouble. "Daniel, while off duty, went to a local auto store and not only bought the hose that needed to be replaced but installed it as well. The couple was very grateful for his generosity and kindness."
Each quarter, the hospital's Service Award Committee selects an employee to receive the Quality Service Award. Criteria for selection as a Quality Service Award recipient include: demonstrating a consistently high level of productivity and quality of work along with a high degree of initiative in performing work responsibilities; displaying exceptional dependability; exhibiting effective relationships with others; displaying a commitment to service and serving the Jefferson Medical Center community; and meeting the criteria for the WVU Medicine mission, vision, and values.
Nomination forms for the Quality Service Award are available at locations throughout the Jefferson Medical Center campus. Anyone who witnesses an employee displaying outstanding service is encouraged to complete and submit a nomination form.
For more information: Teresa E. McCabe, WVU Medicine Eastern Panhandle Vice President of Marketing and Development, 3