Radiation Oncology earns accreditation from American College of Radiology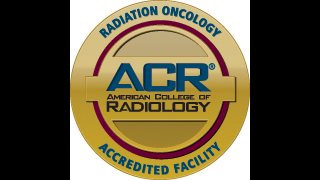 When Department of Radiation Oncology Chair Geraldine M. Jacobson, M.D., M.P.H., M.B.A., arrived at WVU in 2012, she was charged with building a department that would provide high quality clinical care in line with national standards.
Radiation oncology, or radiation therapy, is the careful use of high-energy radiation to treat cancer. A radiation oncologist may use radiation to cure cancer or to relieve a cancer patient's pain.
Since 2012, the Radiation Oncology Department has undergone renovation, added new state-of-the-art equipment, added radiation oncologists and physicists, and increased the scope and quality of its services. The department is credentialed for participation in National Cancer Institute (NCI) cooperative group clinical trials.
These achievements led to the WVU Medicine Radiation Oncology facility earning accreditation from the American College of Radiology (ACR). The accreditation period is for three years.
"This accreditation is a major milestone for our new department, and it represents the sustained efforts of our entire team to create a high quality practice," Dr. Jacobson said. "We underwent a rigorous review process, and we now meet nationally accepted standards of care."
The ACR Radiation Oncology Practice Accreditation Program (ROPA) reviews radiation oncologists and evaluates patient care. ACR assessed WVU Medicine's personnel, equipment, treatment planning and records, patient safety policies, and quality control/quality assessment activities.
"For patients who live in the Morgantown area or anywhere in West Virginia, they can receive the same standard of care at our facility that they would in other centers," Jacobson added. "They don't have to leave West Virginia to get high quality patient care."
The ACR is the nation's oldest and most widely accepted radiation oncology accrediting body, with more than 600 accredited sites and 27 years of accreditation experience. The ACR seal of accreditation represents the highest level of quality and patient safety. It is awarded only to facilities meeting specific Practice Guidelines and Technical Standards developed by ACR after a peer-review evaluation by board-certified radiation oncologists and medical physicists who are experts in the field.
The ACR is a national professional organization serving more than 36,000 diagnostic/interventional radiologists, radiation oncologists, nuclear medicine physicians and medical physicists with programs focusing on the practice of medical imaging and radiation oncology and the delivery of comprehensive healthcare services.