Remember youth who have aged out of the foster care system during the holidays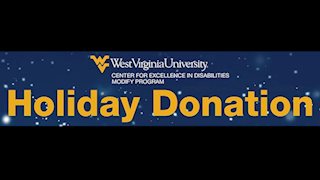 Donate today to the MODIFY holiday drive
The holidays can be a difficult time for many, but for young people who have aged out of foster care it can be particularly rough. Many young adults and youth watch their friends and peers return home during the holidays and enjoy a restful time off. Often youth who have grown up in the foster care system do not have a place to go for the holidays, people to visit or receive any gifts.
The MODIFY Program with the WVU Center for Excellence in Disabilities (WVU CED) is accepting donations for holiday gifts to be given to youth ages 17-23 who have aged out of foster care. These young people receive services through the MODIFY Program to help them with college and independent living skills.
Each year, more than 23,000 children will age out of the US foster care system when they turn 18 years old. (National Foster Youth Institute). "We have seen that often the youth enrolled in our program have limited or no family support and many times do not receive any gifts for the holidays. The items that we send them may be the only things that they get so we try to include practical items like socks or gloves and still include some fun items like candy or a special body wash," says Tina Faber, the program manager for the MODIFY program. "It's surprising to hear from them how big an impact receiving such a small gift can make," said Faber.
Individuals and organizations who would like to donate to the MODIFY holiday drive can donate in several ways. Cash donations by credit card to purchase items can be made online through the WVU Foundation by selecting the MODIFY Program Holiday Drive. Those who are interested in picking out a present and having it shipped directly to the MODIFY program can make a purchase from the program's Amazon wish list. For those interested in doing their own shopping, items can be dropped off at the WVU CED's offices in Morgantown and Big Chimney during business hours.
For more information, or to arrange a donation in person or by check contact Tina Faber at 304-288-8023.