Renovated POC floor now open with centralized registration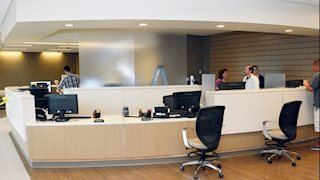 WVU Medicine clinics seeing more patients than ever before
MORGANTOWN, W.Va. – The first phase of renovations in the WVU Medicine Physician Office Center (POC) is complete, just one aspect of an ongoing initiative to improve the accessibility and experience of outpatient care at WVU Medicine.
Starting yesterday (Aug. 1), patients seeing physicians on the fourth floor in surgery, obstetrics and gynecology, and the Preoperative Evaluation Center (formerly Pre-Admission Unit) will step off the elevator to a single centralized registration desk and waiting area. The change is based on the success of the same model at the University Town Centre clinic.
"It has been very effective," Darin Rogers, vice president and chief ambulatory operations officer of WVU Medicine-WVU Hospitals, said. "Patients liked it; the clinics liked it; so we decided we're going to bring that back down here to the POC. The new space is bright, clean, very modern looking."
Another benefit of consolidating the registration and waiting areas is the addition of 21 new exam rooms when the second phase is completed in December. The second and third floors will be renovated in 2017 and 2018, respectively.
Those 21 additional rooms are needed as the volume of patients seen at WVU Medicine clinics in and around Morgantown is skyrocketing.
"We are experiencing the highest volume of outpatient clinic visits in the history of our organization," Judie Charlton M.D., chief medical officer of WVU Medicine-WVU Hospitals, said. "It seems that the more we say 'yes' to requests for new appointments, the more patients want to receive care from our organization. We are committed to meeting this need."
WVU Medicine-WVU Hospitals outpatient clinics, including those on the Ruby Memorial Hospital campus, satellite clinics in Morgantown, and outreach clinics throughout the state, are projected to provide 75,000 more patient visits this year than last year. As of June, they had already exceeded the expected number of visits by 30,000.
In 2015, the clinics provided 774,000 visits, nearly three quarters of a million. If the pattern of growth continues, in just over two years the clinics could be performing one million visits per year.
Most of that growth is concentrated in satellite clinics around Morgantown. University Town Centre, which turned one year old on May 4, exceeded its projected volume for its first year by 24 percent — that's 28,000 more visits than expected. The facility has already had 700,000 visits in the first half of 2016. The Clark K. Sleeth Family Medicine Center alone is providing nearly 4,000 visits each month.
WVU Medicine is moving quickly to meet the growing demand for its services. A variety of specialties are opening additional clinics both in and outside of the state in the coming year, including the opening of the recently ground-broken multi-specialty, 39-room clinic in Fairmont next September.
Part of the growth effort includes recruiting additional physicians. By September, 74 new physicians will begin seeing patients, 51 of whom are filling newly created positions.
"Our providers are above the national average in production and effort," Rogers said. "We have a lot of both providers and clinical staff here that are working hard and are committed to seeing these patients and delivering great care. They're the ones that really make it happen."
For more information: Amy Johns, Director of Public Affairs, 304-293-7087