Resident and Fellow Job Fair set for today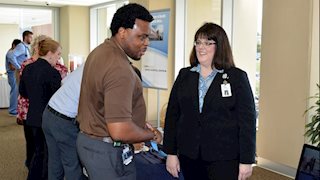 WVU Medicine will hold a Resident and Fellow Job Fair on Thursday, Sept. 28, from 11 a.m.- 2 p.m. on the third-floor atrium of J.W. Ruby Memorial Hospital and from 4-5 p.m. in the first-floor conference room at WVU Medicine University Town Centre.
Recruiters will be present from WVU Medicine hospitals and outpatient clinics to talk with residents and fellows about current and future employment opportunities:
There will be refreshments and prize giveaways.
A representative from LinkCapital will attend the fair happening at J.W. Ruby Memorial Hospital. LinkCapital's team of experienced healthcare, finance, and capital market professionals are offering student loan refinancing products to WVU Medicine physicians, residents, and fellows. One-on-one appointments will be available the same day from 2-5 p.m. Just make an appointment with the representative during the fair. Learn more about LinkCapital.
Questions? Contact the Physician Recruitment Department at PhysicianRecruiter@WVUMedicine.org.