rHeART trial shows improvement in rural community cardiovascular health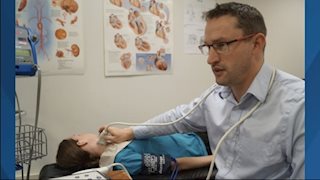 Community-based research approach positively affects behaviors
A recent West Virginia Clinical and Translational Science Institute funded pilot study has produced encouraging results in the improvement of heart and blood vessel health in rural communities, along with showing a change in participant healthy lifestyle behavior. The rHeART study also supports community-based approaches as effective ways to address local-level health behavior change.
rHeART stands for a Rural Heart/Health in Appalachian Risk and Translational Study.
When the study concluded, participants noticed a 37 percent increase in the number of meters walked during a six minute walk test. Participants also saw a 22 percent decrease in weekday sitting time. The education provided led to behavior changes in 59 percent of participants.
The rHeART program is a community-based research approach model aimed at reducing the risk of cardiovascular disease in adults. This 10-week intervention program provided participants with an educational curriculum covering cardiovascular topics such as stress reduction, physical activity, tobacco cessation, and social support while also incorporating the Dietary Approaches to Stop Hypertension (DASH) diet.
This program was funded by a WVCTSI pilot grant, with external funding coming from the Claude Worthington Benedum Foundation.
rHeART is a collaborative project led by Paul Chantler, Ph.D., assistant professor at the West Virginia University School of Medicine. Chantler worked with Roane County Family Health Care, the Mid Ohio Valley Health Department, the West Virginia School of Osteopathic Medicine, and the West Virginia Practice-Based Research Network, who handled program module development, implementation, and participant recruitment.
"These results are very promising," said Chantler. "It's encouraging to know we can positively impact peoples cardiovascular health by adapting health programs to fit community needs."
"It is exciting to be part of a statewide team collaborating to address one of West Virginia's biggest health problems," said Emma White, RN, director of quality improvement with Roane County Family Health Care.
At the conclusion of this study, rHeART has supported the feasibility of implementing community based health strategies in rural communities. Along with being feasible, the program proved popular with its participants, who marked their participant satisfaction at 86 percent.
WVCTSI Background
In August 2012, the WVCTSI was awarded a $19.6 million IDeA Clinical and Translational grant from the National Institute of General Medical Sciences titled "West Virginia IDeA CTR" [Institutional Development Award for Clinical and Translational Research, 1U54RR033567-02; Hodder (Principal Investigator)] to support WVCTSI's mission of building clinical and translational research infrastructure and capacity to impact health disparities in West Virginia.
This grant was matched by a $33.5 million commitment from several West Virginia entities to create a total funding of $53.1 million to recruit 24 clinician scientists and provide infrastructure core support in biostatistics, bioinformatics, community engagement and outreach, clinical research education and mentoring, ethical and regulatory knowledge support, and pilot grants to grow clinical and translational research in the state.
-WVCTSI-
im 3/30/16
CONTACT:
Ian Moore
West Virginia Clinical and Translational Science Institute
304.581.1781