Right Patient, Right Care, Right Time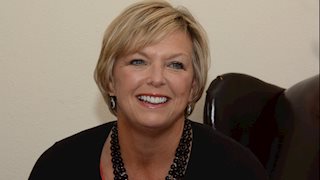 WVU Nursing Alum Malene Davis inspires nurses to support hospice patients
If there's one color Malene Davis does not like, it's beige.
"I had always been told in my MBA classes to be colorful, but don't be beige," said Davis, CEO of Capital Caring. "What that meant to me was analyze the situation, understand what matters, then take a principled stance — and always be bold. I've tried to live my personal and professional life like that and inspire and motivate others to do the same."
On a recent afternoon, Davis sat at a desk in Hospice Care Corporation's headquarters in Arthurdale, West Virginia – in a room that previously served as Eleanor Roosevelt's quarters. Dressed in a bright coral dress, the WVU School of Nursing alum reminisced about her colorful career.
She started as a nurse at the former University Hospital, where she cared for oncology, ENT, and neurosurgery patients. "I wondered what would happen to them once they left the hospital," Davis said. "In these very rural counties, what kind of help would they have at home? That's a little beyond what the hospital can be concerned about on a daily basis."
With a goal of working in hospital administration, the Preston County native went on to earn her Master of Business Administration from WVU. "At that time, there were not many RN, MBAs," Davis shared. "They really didn't know what exactly to do with me. They kept trying to corral me back into the nursing department. I felt like I could make a change in how hospitals were run. That was very ambitious for a 24-year-old. I wanted something that married management and nursing."
Then, one day in 1988, Davis came across an ad – about the size of a Splenda pack – in the Preston County Journal, seeking someone to run a hospice. "It was a start-up, a small group of volunteers who were trying to get a hospice off the ground," she recalled, referring to Hospice Care Corporation. "So I applied. When I went to interview, the floor was beige, the walls were beige, the pants of every person interviewing me were beige. It was a Forrest Gump moment, as in 'Run, Malene, run!'"
Encouraged by her father, Davis took the job. She served as president and CEO of Hospice Care Corporation for 19 years. "Being in Eleanor's place, I used to sit here and wonder, 'What would Eleanor think about how Arthurdale turned out?' Here she was, a woman of means, but she had this spirit about her. She really wanted people to be able to do better. That's what developing and creating Hospice Care Corporation meant to me."
A trailblazer at heart, Davis feels compelled to make sure everyone knows that hospice care is available and that they're entitled to it. She did that in West Virginia: Hospice Care Corporation is the largest hospice in the state, serving 12 counties. "I feel people should get the care they need – the right patient, the right care, the right time," she noted.
In 2006, inspired by her success in building a solid hospice foundation in West Virginia, Davis moved to Washington, D.C., to help Capital Caring with its goals. Davis led with her vision of developing a strong hospice in the nation's capital – one that could serve as an example to the country for how hospice care should be. "We went to work right away to figure out how to expand access to hospice care and ensure we were providing the highest quality care available," she said.
In the years since, Davis has led Capital Caring in tremendous growth, doubling the number of patients and families the organization serves. Davis credits success to a focus on quality, outcomes, and accountability.
"We've been very innovative," said Davis, who is past president of the WVU School of Nursing Alumni Association. "That's something I encourage nurses to do – think out of the proverbial box. Think about ways you can improve how people are cared for, the way systems run. Nurses are so good about that because they're so resourceful."
In 2008, Davis and Hospice Care Corporation created at the WVU School of Nursing the first national endowed lectureship focused on pain and palliative care – the Perry G. Fine Pain and Palliative Care Lecture Series. The endowed lectureship is the only one in the country that partners a community-based hospice and a major university, bringing national and international pain management experts to the state.
"We always reach out to students because it's nationally known that there's not enough teaching in hospice and palliative care for medical and nursing students," explained Davis, who is a member of the WVU Alumni Association Board of Directors. "Hospice is palliative care, but not all palliative care is hospice care. Palliative care is about pain and symptom management. That can and should be carried out while people are going through active treatment. When things are coming to an end and cure is no longer a realistic goal, there is always more we can do to reduce the burden of advanced illness for both patient and family. Comfort, support, and closure are principle goals of hospice care.
"A person is not just made up of a biological being in the disease state, but there's the psychosocial part, the spiritual part that needs to be attended and nurtured as well," she added. "Most people, if they were to describe where they want to be at the end of life, they want to be at home, wherever they call home."
Nurses, Davis stressed, are an integral part of the interdisciplinary team that provides palliative and hospice care. "There is an incalculable value of bedside nursing," Davis said. "Being mindful of patients and their families is at the core, always, of everything we do. When time is of the essence – when you have more yesterdays than tomorrows – then you don't want people wasting your time. You want your issues addressed by some great people who deliver TLC."
How does someone who's dedicated her life's work to hospice care stay positive? "People ask, 'Isn't that depressing?'" Davis recalled. "I've always focused on the honor and the privilege to learn the patient's story. I am inspired by those stories on a daily basis because families write in. People say, 'I don't know what we would have done without you.' When you focus on that, you're repeatedly just filled up with inspiration and great desire to change the course of despair and suffering for people."
For more information: Contact: Tara Curtis, 304-581-1772
April Henry