Robotic heart surgery puts Coach Kellar back on the field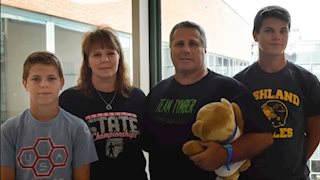 MORGANTOWN, W.Va. – A free blood pressure screening at his local volunteer fire department may have saved one man's life.
Harry Kellar, 52, of Cutler, Ohio, father of four, coach of his son's junior high football team, and machine maintenance planner at Kraton Polymers, felt fine. His older son's high school football team was hosting an ice cream social at the firehouse, and Kellar stopped by the blood pressure booth for a quick check.
A handful of doctors' appointments and referrals later, Kellar found out that an artery in his heart was 100 percent blocked. He needed a coronary artery bypass. Kellar had watched his father's long recovery from traditional bypass surgery, in which the breastbone is split and the ribcage separated in order to access the heart. He wanted to avoid that experience if at all possible.
Fortunately, just two hours away, the WVU Heart and Vascular Institute offers minimally invasive direct coronary artery bypass. With the aid of a surgical robot, the entire procedure can be performed through a few small incisions between the ribs on the left side.
"Most cardiac surgery is done through a sternotomy, an incision in the middle of the chest where the breastbone is split," Lawrence Wei, M.D., the cardiac surgeon who performed Kellar's operation alongside Vinay Badhwar, M.D., said. "Like any broken bone, this requires some time to heal and requires a longer time of inactivity. But in Mr. Kellar's case, we could approach the blockage through a very small incision between the ribs on the left side of the chest without breaking or cutting any bones. That minimizes the amount of pain that the patient sees, and the recovery is substantially quicker."
Just two weeks after that blood pressure check, Kellar found himself on Dr. Wei's operating table.
"In the beginning, I was a little bit worried," Kellar said. "Actually, I was pretty scared until I got into the area where they were going to do the surgery. I talked to the doctors, and right then I knew I was going to be fine."
Kellar's surgery went smoothly, and Wei predicts a full recovery. Minimally invasive robotic heart surgery cuts recovery time nearly in half from up to two months to just four to six weeks, with much less pain and soreness. For his part, Kellar is looking forward to getting back to his family and his team.
"I'm excited to see how much more energy I'm going to have," Kellar said. "I'm sure I'll have more. I'm hoping to be able to have some quality time with the family after a long day."
Most of all, Kellar and his family encourage others to get regular check-ups to catch risk factors like high blood pressure before they cause a problem.
"There are certain risk factors for developing heart disease," Wei said. "They include family history, high blood pressure, high cholesterol, diabetes, and cigarette smoking. The more risk factors you have, the more likely you are to develop this problem at a younger age. We can't change our family history, but all of the others we can modify."
PHOTO: Harry Kellar's sons Peyten (far left) and Liam (far right) and his wife Michelle (center left) are ready to bring their dad and husband (center right) home.
For more information: Amy Johns, Director of Public Affairs, 304-293-7087