Robotic joint replacement improves lives at any age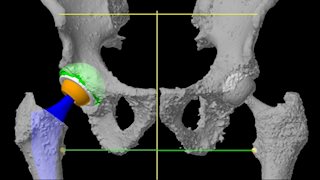 MORGANTOWN, W.Va. – Two people, two stages of life, two different joints, but one common experience: pain.
Shelba Sisler, 77, was in Florida when her knee pain got so bad she could no longer ride her bike or take walks. Due to her age, she was apprehensive about knee replacement, but she was in good health, so when she returned home, she scheduled the surgery with Matthew Dietz, M.D., an orthopaedic surgeon at the WVU Medicine Center for Joint Replacement.
Miles Cox, on the other hand, was young to need joint replacement. At 26, he needed both hips replaced due to ankylosing spondylitis, a severe form of arthritis.
"It used to be a struggle to walk across the room; it would be a struggle to get up to use the bathroom; it would be a struggle to do anything," Cox said.
Both Sisler and Cox had robotic-assisted joint replacement surgery, which can be used for both partial knee and total hip replacements.
"The difference between a regular total hip replacement and robotic-assisted total hip replacement is that it is like using laser-guided tools," Brock Lindsey, M.D., orthopaedic surgeon, said. "So I could do it without the robot, I just do it better with the robot."
Dr. Lindsey performed both of Cox's hip replacements, the second of which was performed as an outpatient procedure. While outpatient total joint replacement can be done with traditional or robotic joint replacement surgery, the precision of robotic-assisted joint replacement contributes to the accelerated recovery protocols that allow patients to get literally back on their feet soon after surgery.
In traditional joint replacement, the surgeon creates a preoperative plan based on CT scans of the patient's anatomy, then attempts to manually execute that plan in the operating room. With robotic-assisted surgery, the preoperative plan is programmed directly into a robotic arm. The surgeon controls the arm through the surgery, and the arm ensures that the surgeon does not deviate from the plan.
"The robot essentially protects us from going outside of that 'safe zone,'" Dr. Dietz said. "The robot is helpful in terms of safety but also in terms of being more precise in the location of our implants."
Robotic-assisted joint replacement surgery virtually eliminates human error, resulting in procedures that are consistently precise to within a millimeter. This degree of precision allows implants to have fewer complications and last longer, so patients need fewer, if any, revision surgeries during their lifetimes.
The improved longevity of the implant is particularly important for a young man like Cox.

"For a younger patient, putting those implants in as perfectly as we can is going to give him the most longevity and the least risk of some sort of mechanical complication," Lindsey said. "And Miles recovered fantastically. I think he's excited about what it offers him."
Cox was up and walking the day of his surgery and back home in less than 24 hours. He anticipates getting back to full strength by Christmas.
"Literally everything is easier," Cox said. "I could barely lift my legs before. Getting out of the shower is easier, getting dressed is easier, everything's just a little bit easier."
For her part, Sisler has been taking full advantage of her new, pain-free knee.
Sisler and her husband of 60 years, Ernie, just moved this summer. Her new knee will make it much easier to enjoy her five children and their families, including 14 grandchildren and 10 great-grandchildren.
"We just bought a new home, so the moving process and the cleaning process has been an ongoing thing for a couple months now, getting the new house ready," she said.
The WVU Medicine Center for Joint Replacement began offering robotic-assisted joint replacement surgery at J.W. Ruby Memorial Hospital in February.
For more information: Sarah Wisniewski, Communications Specialist, 304-293-7087