Ruby Memorial Hospital first in the nation to receive perioperative quality designation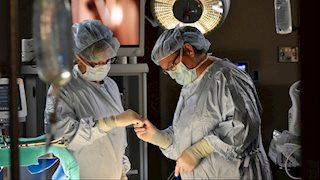 MORGANTOWN, W.Va. – WVU Medicine Ruby Memorial Hospital is the first hospital to receive the Association of periOperative Registered Nurses (AORN) Committed to OR Excellence (CORE) Award – Silver Level in recognition of Perioperative Services. Ruby Memorial Hospital is currently the only AORN CORE designated hospital in the United States.
Perioperative services care for patients before, during, and after surgery. The CORE award recognizes the individual perioperative nursing unit that distinguishes itself by improving every aspect of perioperative patient care. Ruby Memorial Hospital's perioperative services unit was recognized for its demonstrated high level achievement of award criteria based on presentation of department demographics, patient safety, quality outcomes, and Magnet-designated work environment.
"We are extremely proud of this national recognition. Our perioperative nurses work very hard on a daily basis to ensure the highest level of care for our surgical patients. We hold this award as an honor and a challenge to keep improving and providing the best perioperative care to the people of West Virginia and the region," Amy Bush, B.S.N., M.B.A., vice president of operations for WVU Medicine-WVU Hospitals, said.
The award was presented to Jacqueline A. Sions, R.N., and Dawn M. Yost, R.N., co-authors of the award application, at the AORN Surgical Conference and Expo 2016, held April 2-6 in Anaheim, Calif.
AORN CORE Award candidates are evaluated on leadership structures and systems; appropriate staffing and staff engagement; effective communication; knowledge management, learning, and development; evidence-based practice and processes; and outcome measurement. CORE Award-designated units meet or exceed quality standards based on these proven indicators of excellence. Awarded units receive a three-year designation.
Yost was also appointed to the Board of Directors for the AORN at the conference.
For more information: Amy Johns, Director of Public Affairs, 304-293-7087