Runners, walkers will hit their Stride in annual WVU Medicine 5K on Sept. 24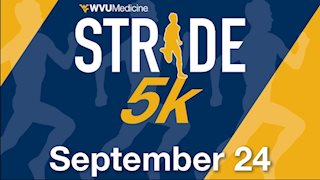 MORGANTOWN, W.Va. – The 24th Annual WVU Medicine Stride 5K, organized by WVU Medicine Rehabilitation Services, will take place at 9 a.m. Saturday, Sept. 24 at WVU Medicine J.W. Ruby Memorial Hospital.
Registration will be from 7:30 to 8:45 a.m. on race day and will be located in the parking lots between Ruby Memorial and Mountaineer Field. The rolling 5K course has one water stop and mile split times. To ensure the safety of all participants and in compliance with Road Runner Club of America guidelines, no dogs, baby strollers, or headphones are allowed.
The race fee includes a T-shirt (guaranteed to the first 200 pre-registrants). Cost is $20 for WVU Medicine/WVU Health Sciences employees, $25 for the general public, and $30 after Sept. 16 (no discount). The employee discount does not apply to employees' family members. After Sept. 16 (including race day), the cost for all participants is $30.
To pre-register online at the discounted rate, visit wvumedicine.org/stride-5k. To pre-register by mail, visit the site, and click "Register By Mail." Print and complete the form, and mail it to the address listed.
While the adults are running and walking, kids age 1 and older can participate in a free arts and crafts session and races of their very own. Beginning at 9:45 a.m., there will be three kids' races – two short-distance races for younger kids and a half-mile race for older kids. Parents must register their children for the kids' races and the arts and crafts session on the morning of the race.

The WVU Medicine Stride 5K benefits the Richard Rosenbaum Memorial Fund, which provides medication and equipment to children with cystic fibrosis and other pulmonary problems.
Richard "Rick" Rosenbaum, who was treated at WVU for cystic fibrosis from birth, died at age 36 in 1995. He was a dedicated advocate for children's programs associated with the hospital. Rick was a local businessman and good friend to many of the organizers of this event. His family created the fund.
For more information: Angela Jones-Knopf, Manager of Media Relations, 304-293-7087