'…running is no longer something I'm trying – it's something I DO': Leah's story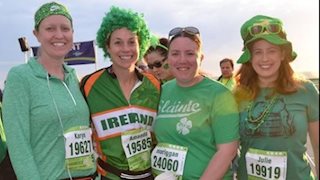 In the weeks leading up to September's WVU Medicine Morgantown Marathon weekend, we're featuring the personal stories of several runners in our community, as told by them. Though they share a common pastime, each of our guest bloggers has his or her own motivation that got them started and keeps them moving.
WVU Medicine is proud to be the major sponsor of the 2016 WVU Medicine Morgantown Marathon Weekend, which includes an 8K race, a half marathon, and a challenging full marathon. In addition, WVU Medicine's annual Stride 5K is a popular family event for runners of all abilities. Click here for tips on getting your running habit off to a great start.
When my mom was diagnosed with breast cancer in 2014, I shattered into a million pieces at my desk, pulled them all back together, and went back to work – but by lunchtime, I had to do something to burn through the panic, so I walked/ran until I couldn't breathe.
I weighed 235 pounds after two babies and 20 years of post-high school inactivity. That first run sucked, and I was slow and sick, and things hurt.
As late winter dragged on and I went through my mom's successful surgery and radiation treatments, I found that every other day or so, my stress levels would build up, and if I didn't "run," I couldn't think straight. When I couldn't get out of the office for lunch runs, I would put headphones on and run up and down the two flights of stairs at my office building. My co-workers thought I was crazy, and it was sometimes awkward to be caught sucking wind and sweaty in the stairwell at work. But I felt better, calmer.
By May, Mom's cancer was cleared and I was hooked on running. I was still slow, but I could run/walk a mile in 13 minutes, and I could do more than one at a time, so I signed up for the ElectroDash 5K, a race that raised funds for WVU Medicine Rosenbaum Family House. It was untimed, so I could just try and finish and feel good.
I had dropped 15 pounds, and thanks to a work-sponsored health coach, I had incorporated some better food choices into my diet. I finished that race with a huge smile on my face and an unofficial but respectful time of 36 minutes. I eventually lost a total of 35 pounds in 2014 and finished Morgantown's Jim Dunn Twilight 5 Miler the following July.
Once I was a runner, I thought it always would be, that it should be, easier – but it wasn't. A sprained ankle, a family move, another cancer scare… packing and selling, biopsies, kids, and work… all things that put up roadblocks to exercise. After barely finishing that five-mile run in July 2015, I went a little crazy and signed up for the WVU Medicine Thirteener.
I ritualized running to prepare for that race, running three days a week with long runs on Saturday. I got up at 5:30 a.m. to run when it was still cool enough to not keel over on the sidewalk. I switched from needing motivation to having discipline.
That finish line was ugly.
I cried, I shook, I couldn't sit down – because I was afraid I wouldn't be able to get back up. I couldn't even drink the free beer at the end of the race! But the glow and smile I see in pictures is something I've never seen on my face before or since.
Now I love running and I hate running. I hate the struggle to find time. I hate the first 10 minutes when the whole process feels unnatural and the panic takes over, of "'I can't breathe, I have to breathe or I'll die." I hate the logistics of wanting to run but having to rearrange four schedules to do so. I hate not feeling safe in certain places at certain times and the anxiety of running past a stranger on the trail when you haven't seen another person in 10 minutes. I hate sore knees and ankles, and shoes that don't fit quite right and thinking, "Darn it, I just bought them."
But, oh, how I love running, too. Not just for the normal reasons, like the weight I lose or the sense of accomplishment I get when something hard is completed.
I love the smell of mint in a neighborhood garden at 6 a.m. in August. I love the loud music in my ears when I'm mad or scared and I can't quite get my breath, but somehow I'm still running. I love the runs with friends, and our talks about politics and spouses, and the laughter about the inglorious aspects of our sport – like sports bras, porta potties, and chafing.
I loved the trip this spring with three girlfriends to Virginia Beach, where we ran 19 miles in two days through a nor'easter, earned three medals, and ate and drank our weight afterward.
I love that my husband has started running "with" me. He doesn't, actually. He's way faster than me, but we go together and laugh and share the time together. I love that my 8-year-old son ran his first 5K in April, and shortly after that ran another – in 26 minutes.
I'm still overweight. I could lose another 50 pounds, according to all those lovely charts that say I'm obese. I still run much slower than most of my runner friends (and my husband, son and 80 percent of the people out there running.)
I still struggle sometimes to remember that running is no longer something I'm trying – it's something I DO. But I have some new shoes to break in, and the Morgantown Marathon weekend is coming up. I'm not running the Thirteener this year; instead, I'm running the Mountain Mama 8K.
I might struggle some, but I'm a runner – and I'm good at it now.
Runner Leah Cyphert, 38, is part of the WVU Medicine family, working as an analyst in Information Technology/Enterprise Analytics. She lives in Morgantown with her husband, Luke, and their two children.