'Running is a team sport:' Wendy's Story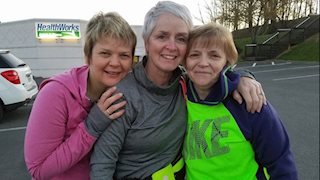 In the weeks leading up to the WVU Medicine Morgantown Marathon weekend, we're featuring the personal stories of several runners in our community, as told by them. Though they share a common pastime, each of our guest bloggers has his or her own motivation that got them started and keeps them moving.
WVU Medicine is proud to be the major sponsor of the 2016 WVU Medicine Morgantown Marathon Weekend, which includes an 8K race, a half marathon, and a challenging full marathon. In addition, WVU Medicine's annual Stride 5K is a popular family event for runners of all abilities. Click here for tips on getting your running habit off to a great start.
For those who say running is an individual sport and not a team sport, I humbly disagree. Please do not misunderstand me; each person must put in the miles. The team I am talking about includes the supporters and friends who stand behind each individual. This concept of a running team has become very apparent to me over the past two years.
According to the Merriam-Webster Dictionary, a runner is a person who runs as part of a sport, for exercise, or in a race. So if someone asks me, "Are you a runner?", I can say yes, by definition, I am a runner. Fortunately for me, there is not a speed requirement because I am SLOW. I may be slow, but I am determined.
My adventures in running began in the spring of 2014 when I joined the 5 a.m. Boot Camp class at HealthWorks. Boot Camp workouts usually consist of strength training and a run each day. Think burpees, push-ups, and crunches for 20-30 minutes and then a two- to four-mile run.
The strength exercises, while challenging, were something I knew I could do. In the beginning, the runs, on the other hand, were something I just could not finish. At first they were torture! Halfway through the run, I found myself questioning my sanity, wondering if I was going to die. I was always the last person to finish. I could barely breathe. Hours after we finished, my legs were still sore. What was I thinking? I should just QUIT.
That was when I realized that, for me, running is a team sport. My husband Joe gave me pep talks; he knew I could do this! I didn't quit. My fellow Boot Campers cheered me, encouraged me, and offered suggestions to help me. Some of them even slowed down to run with me. Thanks to my team, I persevered. I got stronger and faster. Well, a little faster.
I met a great group of people who didn't care that I was slow. Eventually, I was able to catch up with some of the group. This is when I knew I belonged. I was a runner. And I had a team!
We trained all winter for the 2015 Myrtle Beach Half Marathon. There were definite categories that developed. There were the fast ladies – Jaimie, Gina, Linda, and Lisa. Amiti and Deb fell into the middle of the pack. And then there were those of us at the back – Carla, Charlotte, Rich, and me. I was the slowest.
Race day came, and off we went. I figured I'd see the rest of the group back at the hotel for dinner or sometime after the race. I finished more than eight minutes after the others. As I arrived at the finish line, all the others on my team were still there, yelling and cheering for me when I finished! Overwhelmed by the love and support, I cried like a baby when I crossed that finish line.
Sometime during the half marathon training, I injured my left ankle. After the race was over, I tried to work it out, but the swelling got worse and eventually began to damage my knee. With a diagnosis of a torn posterior tibial tendon, I could not run. I didn't know if I would ever be part of the running group again. On Aug. 5, 2015, WVU Medicine's Dr. Robert Santrock performed reconstructive surgery to repair my foot. Despite a successful surgery, I was emotionally shattered. I became very depressed. Being injured was the worst.
The post-surgery healing process was slow – six weeks on crutches and four more weeks in a cam-walker boot. I had to rely on my team. My husband took over the day-to-day management of the house, in addition to 45 hours or more a week at work. He put up with my foul mood, took me to doctor appointments, and went above and beyond to help me. My friends visited, sent cards, listened to me complain, and helped cheer me up. Everyone was so supportive. I could not have made it through this process without my team.
I was allowed to return to the gym on Dec. 10, 2015. I knew I had a lot of work to do. I would have to take baby steps to be able to run again. Physical therapy was fun. I embraced the idea of, "If you want to run, you have to walk." And walk I did! The laps started slowly on the indoor track.
By January 2016, I was able to finish a mile in about 15 minutes, and I had returned to the 5 a.m. class at HealthWorks. With the support of fitness instructor Leanne DiAngelo and the other members of the class, I started to get back in the groove.
Some of us decided to train for the Pittsburgh Half Marathon. As a show of solidarity, Carla, Charlotte, April, and Peggy decided they would train to finish the Pittsburgh Half Marathon with me. We trained, we struggled, we ran some, we walked a lot, and we became a good team! We are friends.
On May 1, 2016, I finished the 13.1 miles of the Pittsburgh Half Marathon in three hours, five minutes, and 52 seconds. It was an achievement that six months prior seemed impossible, but teamwork and perseverance made it a reality.
I am now in training with Carla, Charlotte, and Diane for the Nationwide Children's Hospital Half Marathon in Columbus, Ohio, on Oct. 16. We are even running the Morgantown Marathon Mountain Mama 8K as part of our training.
Thanks to the love and support of a lot of people, I got through a hard time. I am blessed by each and every person on my running team.
Wendy Noll is a soil scientist for the U.S. Department of Agriculture Natural Resources Conservation Service. She lives in Morgantown with her husband Joe and their two dogs.