School of Dentistry faculty appointed as international honorary professor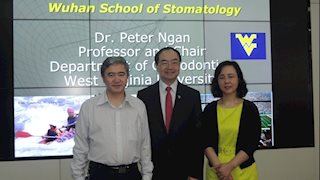 Dr. Pete Ngan will lecture in Hong Kong
Dr. Peter Ngan, Professor and Chair of the WVU School of Dentistry Orthodontics Department, was appointed Honorary Professor in the Faculty of Dentistry, University of Hong Kong.
The appointment allows Dr. Ngan to give an annual lecture series for the orthodontic residents, faculty and alumni in Hong Kong.
Dr. Ngan started collaborative research with the University of Hong Kong with Professor Stephen Wei, former Dean of the Faculty of Dentistry.
These collaborative activities have led to numerous awards and publications.
Now that Hong Kong is part of China, Dr. Ngan was awarded Guest Professorship at the Wuhan University School of Stomatology.
The WVU Global Engagement Office (GEO) recently granted an International Research Award for Dr. Ngan to collaborate in research with Wuhan University, China.
The contract between Wuhan University and WVU Health Sciences also allows the exchange of students and faculty to further our education in Orthodontics and Dentofacial Orthopedics.