School of Medicine departments directed to use WVU Calendar to post events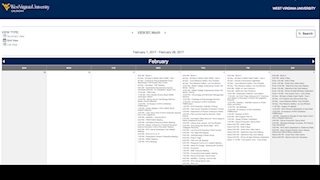 All School of Medicine departments are strongly encouraged to use the WVU Calendar to post all university events. Categories have been created for School of Medicine and for each separate department under the School of Medicine (see graphic below.)
https://calendar.wvu.edu/
https://calendar.wvu.edu/site/schoolofmedicine/
In addition to promoting your event university-wide, the main advantage in using the WVU Calendar is that events categorized by department will pull directly into an events or calendar listing on a department website. This is single-point entry for distributing information, rather than adding events to multiple sites and calendars. Users can also choose location categories, with Health Sciences areas included in those choices.
All users can log in, using their WVU login credentials, and submit events to categories that are managed by one or more calendar administrators. Administrators will review and approve submitted events for their respective calendar categories.
Directions on how to submit events are here: http://universityrelations.wvu.edu/digital-services/web-calendar.
Best practices for posting calendar events:
Include details in your event title to distinguish your meeting, workshop or other event from those of other units.
Always include a summary and start and end times for your event.
Do not select all categories or locations. In general it's best to be as specific as possible when tagging events.
When selecting event locations, always choose only the most specific (lowest) option for the selected location.
Do not paste the event name, summary or description from MS Word. Calendar events are fed to the info stations, which do not support the MS Word formatting character set