School of Medicine to host investiture ceremony for Larry Rhodes, M.D.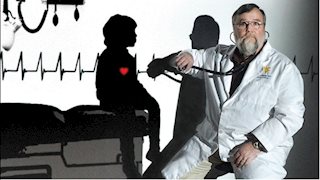 Larry A. Rhodes, M.D., professor and pediatric cardiologist, has been named the James H. Walker, M.D. Chair in Pediatric Cardiology in the WVU School of Medicine.
An investiture ceremony will be held at on April 2 at 3 p.m. in the Pylons Lobby of the WVU Health Sciences Center. A reception will follow.
Dr. Rhodes is the director of Rural Programs within the WVU School of Medicine and was previously named Rural Health Practitioner of the Year by the National Rural Health Association.
Dr. Rhodes earned a medical degree from the WVU School of Medicine and completed a residency training in pediatrics at WVU. Dr. Rhodes also completed fellowship training in pediatric cardiology and pediatric electrophysiology at Boston Children's Hospital.
He served as a faculty member at WVU from 1990 to 1995 and returned to the School of Medicine in 2005 after spending 10 years with Children's Hospital of Philadelphia.
His appointment to the Walker Chair in Pediatric Cardiology comes after years of dedication and commitment to pediatric cardiology and providing care to medically underserved areas of West Virginia—a commitment similar to Dr. Walker's.
Dr. Walker and his team performed the first open heart surgery in the state of West Virginia and conducted cardiac clinics across the state in Philippi, Summersville, Beckley, Bluefield, Hinton, Welch and Charleston.
It was because of Dr. Walker's commitment to education, research and patient care that placed West Virginia on the map as one of the best cardiac programs and cardiac clinical units across the state and country.
Please RSVP to bmlong@hsc.wvu.edu or 304-293-1874.