Back to

News
School of Nursing officially opens new Student Services Wing
New area offers concierge approach for nursing students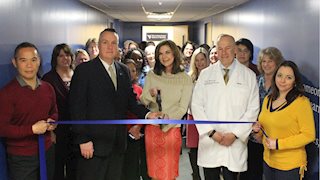 The WVU School of Nursing today officially opened its new Student Services Wing on the Morgantown campus.
The new area offers a concierge approach for students, including:
Housing all advisors in one location for class scheduling and academic progress questions
Providing all admissions and enrollment information through the director of admissions and enrollment
Providing all scholarship and graduation information, including how to file FAFSA and how to apply for the National Council Licensure Examination (NCLEX ®).
Offering a comfortable student lounge where students can relax and watch tv or work on assignments and a break room where students can warm up their breakfast or lunch
Housing a clinical placement coordinator who can answer placement questions
"Our new student services wing was designed with our students in mind," said Tara Hulsey, Ph.D., vice president of health promotion and wellness and dean of the WVU School of Nursing. "We want to make all the information our students need to succeed easily accessible while providing them a warm, welcoming environment where they can relax between busy days of classes and clinical assignments."
Future additions to the lounge will include:
A stress management advising/Mental Health coordinator
A financial coordinator
A career placement coordinator
picture caption: WVU School of Nursing staff and faculty look on as (from left to right) Gregg Cave, assistant dean for Student and Alumni Services, School of Nursing; Tara Hulsey, PhD, vice president of Health Promotion and Wellness, WVU, and dean of the School of Nursing; and Dr. Clay Marsh, vice president and executive dean for Health Sciences, WVU, participated in the ribbon-cutting ceremony for the new Student Services Wing on the Morgantown campus.