SOM faculty, residents, students provide care in Guatemala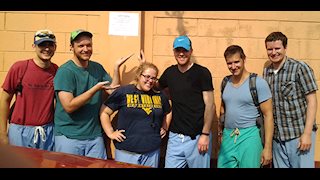 WVU School of Medicine faculty members Maggie Jaynes, M.D., and Troy Krupica, M.D., recently led a trip to San Lucas Toliman, Guatemala, with two residents, four medical students and two staff members. The residents provided education about diabetes and asthma to the promotoras, or lay community members, from the 19 communities serviced by the mission. The patients learned how to use glucometers.
"We saw about 650 patients in the community, including some home visits," said Dr. Jaynes, professor and section chief of pediatric neurology. "In our last clinic, we went out with a group of dentists from New Jersey, led by a WVU graduate. Our dental students will be going later in the spring."
Jaynes remembered that during one of her visits to Guatemala, the head promotora said of the students, "They came as medical students and left as doctors."
"They have to rely on history and physical in order to make a diagnosis as many individuals they see are not able to travel to get tests or can't pay for them," Jaynes added. "The students appreciate the impact of education, economic and living conditions, culture and access to care on the health of an individual as well as their family and community daily in a much more poignant way than learning medicine completely in a tertiary care center. We hope that these experiences provide a foundation of the humanism of medicine that is kept alive in their souls as they become physicians."