Sometimes it's good to reconnect with your history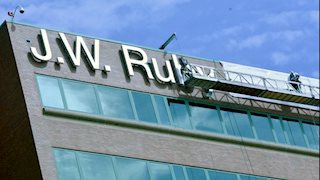 Employees may have noticed that WVU Medicine installed a new sign on the top of Ruby Memorial Hospital last week. The sign reads "J.W. Ruby Memorial Hospital." What many employees might not know is who J.W. Ruby is, and why the hospital is named after him.
The Ruby name is legendary in Morgantown, and many venues throughout our community and state bear the Ruby name. Mr. Ruby himself was an entrepreneur who built a thriving business here in Morgantown. He was a 21-year-old farm boy in 1924 when he went to work in the plating department of Sterling Specialty Company in Newcomerstown, Ohio. He came to Morgantown prior to World War II when Sterling Faucet purchased the idle mill complex in Morgantown. Mr. Ruby was put in charge of the plant, and following the war, he became the owner of Sterling Faucet.
By the time he sold it in 1968, he was involved in agriculture, mining, road paving, poultry processing, feed mills, and race horses. He also owned several area businesses. Mr. Ruby passed in 1972. His wife, Hazel Ruby McQuain, made a gift of $8 million in 1984 to help build the hospital. At her request, and to honor her late husband, the hospital was named after him.
Much has changed since 1984 – today Ruby Memorial is part of a large, thriving academic medical center that is rapidly growing and becoming a major referral center for advanced specialty care. As WVU Medicine continues to expand its clinical expertise and reach through new programs and initiatives, it is important to reconnect with our history and remind everyone of the story of a generous family who helped build something special, our hospital.
"This really is about honoring the legacy of a great West Virginian who was passionate about our state," Albert L. Wright, Jr, the president and chief executive officer of WVU Medicine's flagship hospital, said. "We want the whole world to know that we are proud of our heritage, and remain grateful to Hazel Ruby McQuain for the gift that honored her first husband and helped us build the hospital in the first place. By adding 'J.W.' to the name, and placing it so prominently on the hospital, we want people everywhere to remember the significant contributions that he made to West Virginia, and that the Ruby family was the catalyst that helped begin the transformation of the hospital into a nationally recognized academic medical center.
"So when you leave the hospital today, take a look up, and look with pride as you think about where you work – a great hospital that's doing great things."