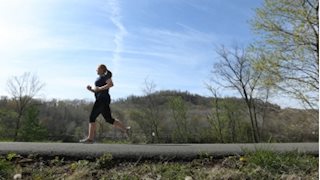 WVU Today- Meet the Grads: Public health student transforms lives, including her own
(Editor's Note: As Commencement nears, WVU Today is featuring some of the University's most dedicated graduates. Here is the story of one of those students.)
One summer day two years ago, Amanda Paugh decided to jog. She could travel between two telephone poles. And that was it.
At more than 300 pounds, the West Virginia University alumna knew changing her life was going to be hard. It was a discouraging yet empowering challenge, she said.
The jog turned into a run. And the run turned into training for a marathon. Two years later, with exercising and a change in eating habits, she is 136 pounds lighter and will be graduating with a master's degree in public health, joining about 4,300 other WVU students during Commencement weekend May 9-11.
"I think people expect there to be some sort of 'aha' moment where something terrible happened and I just started running and Eye of the Tiger was playing in the background," Paugh said.
She had just graduated from WVU with an exercise physiology degree and decided to get her master's at the School of Public Health.
Before she started the slow jog, she wasn't ill but she was miserable.
"I was depressed, and I felt so alone even though a lot of people are obese and have issues with it," she said. "My quality of life was terrible."
She also thought that to best help those around her, she had to help herself first.
"If I can do it, then they can see you can start anywhere and still be a healthy person," she said. "I'll have not just credibility because I'm healthy but credibility because I've been somewhere that's a really difficult place to be, and I overcame it."
After graduation Paugh will be moving to Marietta College not far from Parkersburg, W.Va., to study to become a physician's assistant. Eventually she'd like to work in family medicine and use her public health education to help support healthy living in her home state.
"I feel like often it's put out there as working in a rural population is something we have to have, nobody wants to do it," she said. "But I'm really excited. I want to work in a rural population, specifically here in West Virginia."
Paugh grew up in Maidsville, a rural area outside Morgantown. In her house with five brothers and two sisters – her own biological siblings and strays from the neighborhood, as she says – she learned the language of community and to care for people.
With the help of the state's PROMISE scholarship and WVU's Presidential scholarship, she was able to get a full ride to college, which helped her family and rewarded her for working so hard in high school.
When she was still more than 300 pounds in her undergraduate program, she helped encourage active living at her childhood community center, the Shack Neighborhood House, with a program called Carrot Stix. Children were encouraged to see exercise as fun.
It's this kind of interaction where she sees the value of each life transformed beyond any statistical analysis of a program.
"You can just see kids and you're making exercise fun for them and they don't realize it," she said. "They thought that they could play a video game, and it was so much fun, but they can do yoga and it can be funny; we can make animal noises."
In graduate school, she worked with a variety of health sciences students to encourage healthy eating. The WVU students taught the kids how to grow lettuce and make lettuce wraps.
One mother said it would be a 'miracle' to get her son to eat lettuce.
"He was so excited, and he said 'Mom, we have to try these recipes at home,'" Paugh said. "It's that moment where you really feel like you've done something."
Paugh's parents both have Type 2 diabetes, which led to her primary focus of diabetes prevention and intervention. Recently, several family members joined her to train for a 5K.
And before she graduates, she and other students in her independent research project are providing her church, Woodland United Methodist Church, with a diabetes prevention program. The group's research showed that it's the kind of lifestyle modifications they're putting in place that are more effective than a diabetes-fighting drug.
"They're people that I know and care about," she said. "My church has seen me transform from this 300-plus-pound girl to 136 pounds [off] later. I think I'm more believable now. I can say stuff, and they'll believe me because it worked for me.
By Diana Mazzella
University Relations/News
-WVU-