Back to

News
Spirit Halloween donates more than $106K to the WVU Medicine Children's Child Life Program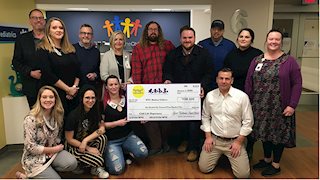 MORGANTOWN, W.Va. – Representatives from Spirit Halloween costume retail stores across West Virginia recently presented WVU Medicine Children's Child Life Program with a check for $106,350, which was donated by store customers last fall. Funds raised help provide non-medical treatment and healing play.
"The purpose of our Child Life Program is to help children and adolescents cope with the stress and uncertainty of illness, injury, disability, and hospitalization," Christine Haufe, R.N., B.S.N., manager of children's specialty services, said. "With the help of Spirit Halloween, we are able to provide hospitalized children comfort and reassurance while reducing their fear and anxiety. We thank Spirit Halloween's employees and customers for their support of this very important service."
Among the items funded by the donation are:
Sensory items to distract busy hands, drown out noise, set timelines, calm and soothe, promote deep breathing, redirect biting and gnashing teeth, and avoid light sensitivities during times of high stress and unpredictability;
Naming of the Epilepsy Monitoring Unit play room in the new hospital, which will house many of the aforementioned sensory items; and
An activities assistant position for the Child Life Program.
Spirit Halloween collected proceeds for WVU Medicine Children's at stores throughout West Virginia and Uniontown, Pa., online at SpiritHalloween.com, and from business partners.
To-date, the Spirit of Children program, which focuses on making hospitals less scary for kids and their families, has raised $501,312 for WVU Medicine Children's. Nationwide, Spirit Halloween team members supplied more than 80,000 costumes, accessories, activities, and décor items needed to host celebrations at 94 hospitals in 2019.
"We enjoy being able to provide needed items and staffing for the Child Life Program at WVU Medicine Children's," Randy Anthony, director of stores in Spirit Halloween's Mid-Atlantic Territory, said. "Just like Halloween costumes allow people of all ages to tap into their inner child and make believe for a night, the Child Life program allows pediatric patients the opportunity to better understand what is happening to them and to heal through playing."
About Spirit of Children
Since its inception in 2007, Spirit of Children has brought smiles, laughter, and a much-needed escape to thousands of pediatric patients in 144 hospitals across the United States and Canada. One hundred percent of the money collected each year is given directly to the local Child Life Departments at partner hospitals. Spirit of Children raised more than $10 million in 2019, bringing its total contribution total to more than $65 million since the program's inception. Spirit encourages customers to help make a difference in a child's life this Halloween season by donating at their local Spirit Halloween or spreading awareness via Facebook and Instagram by using #SpiritofChildren and #MoreCowbell in their photos. For more information, please visit SpiritOfChildren.com.
About WVU Medicine Children's
WVU Medicine Children's – currently located on the sixth floor of J.W. Ruby Memorial Hospital, WVU Medicine's flagship hospital – provides maternal, infant, and pediatric care for West Virginia and the surrounding region, giving care to high-risk mothers, premature infants, and children with life-threatening conditions through adolescence to adulthood. In 2021, WVU Medicine Children's will move into a new tower and ambulatory care center to be attached to Ruby Memorial. For more information, including ways to support the $60-million capital campaign for Children's new home, visit wvumedicine.org/childrens.