Spring cleaning and shred-a-thon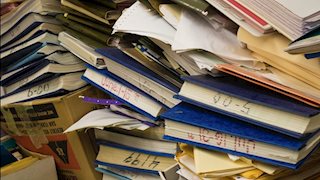 Help available to empty offices and storerooms
Spring is in the air! It's time to open your planner and designate some time to refresh your workplace, throw out the clutter and rejuvenate office spirit.
Many offices and labs at the Health Sciences Center are cluttered with outdated paper and other items. We've designated March 27-31 as our official Spring Cleaning Week. There will be extra help available from WVU Facilities to get your unwanted items out of the building (and your life!)
Tidying up your workspace can help you focus better, work more efficiently, and bring a ray of new life to your daily routine.
With these few simple steps, you can revitalize your workspace in no time:
Get rid of the junk. If you have large items, furniture, unused equipment, etc., WVU Facilities will take it away to the surplus office or the trash. Call 304-293-6924 or 304-293-4115 if you need large items removed or if the bins on your floor are full.
Toss old magazines, papers and last year's calendars in the recycling bins.
If you have sensitive documents that are no longer needed, we can help! There will be secure bins placed on each floor where you can safely deposit items for shredding. Save yourself hours at the shredder! It's a Shred-a-Thon!
Please make sure to put all confidential items into the designated shredding bins. If the bin in your area is full, call one of the numbers above to have it emptied; do not leave items to be shredded outside the bins.
All non-confidential papers should go in recycling bins.