Spring Mills Medical Office Building groundbreaking held on Eastern Campus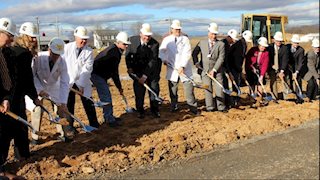 Officials from WVU Medicine University Healthcare Physicians (UHP) and WVU Medicine University Healthcare gathered today with community representatives for a groundbreaking ceremony to celebrate the future site of the Spring Mills Medical Office Building.
The three-story, 40,000 square foot facility will be located off Interstate 81/Exit 20 on 3.57 acres at the intersection of Route 11 and Campus Drive. Owned and operated by UHP, it will house an urgent care, orthopedics & sports medicine, primary care and specialty clinics.
"This WVU ambulatory medical center features unique design elements that will foster our healthcare professionals working as teams, provide us with room for growth of services in a shelled in 3rd floor, and bring expanded access to primary care and specialist care in our growing northern Berkeley County," stated UHP President and CEO Konrad C Nau, MD. "I think the staff and the patients will appreciate the color and brightness of our environmentally green design elements. Best of all, we love being located in the heart of Spring Mills school and shopping district and look forward to being an integral part of this community," he added.
WVU Medicine University Healthcare officials announced they plan to lease space in the building to establish various satellite services of Berkeley Medical Center. According to President and CEO Anthony P. Zelenka, University Healthcare plans to offer rehab services, a women's imaging center and lab/x-ray services to support the physician practices and urgent care.
"By offering these needed medical services in the northern end of Berkeley County where we are seeing tremendous growth, we are improving access and making it more convenient for our patients who live in this area," Zelenka said, adding, "This model is similar to the satellite services we established in southern Berkeley County at our Inwood Medical Building in 2012."
Brechbill & Helman Construction Company of Chambersburg is the contractor for the $11 million project, which is expected to be completed in early 2018. The building was designed by Grove & Dall'Olio Architects of Gerrardstown.
###
Teresa E. McCabe
Vice President Marketing & Development
University Healthcare
2000 Foundation Way, Suite 2310
Martinsburg, WV 25401
304.264.1223
tmccabe@wvumedicine.org
www.wvuniversityhealthcare.com