St. Joseph's Hospital implements new patient security system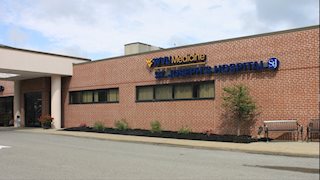 BUCKHANNON, W.Va. – St. Joseph's Hospital has added a new level of safety and security through the "Hugs and Kisses" security system. This system will be used to protect newborns and pediatric patients and ensure the safety of any patient who may require additional monitoring, including confused elderly patients who are at risk for wandering.
Mothers who deliver babies at St. Joseph's Hospital now have an added reason to feel safe about their care. For most of their stay, newborns remain right beside their mothers in their rooms. However, there may be times when the baby has to be taken for tests, procedures, or for a short stay in the nursery.
To ensure safety, the nurse attaches an ID band to the baby that is identical to the band given the new mother. Every time the baby is returned to his or her mom after being removed from the room, the monitoring system ensures that the ID bands match. The ID band means that the baby is monitored at all times.
"If anyone tries to remove the band or take a baby off the unit, alarms will sound and the doors and elevators will lock," Amber Rolenson, director of obstetrics at St. Joseph's Hospital, said. "This system provides an additional layer of security not only for our new mothers and their babies, but also adolescent and specific adult patients, ensuring that we provide the best and safest care."
"We sincerely thank the community for their support of this important new technology," Skip Gjolberg, administrator of St. Joseph's Hospital, said. "Contributions from St. Joseph's Auxiliary, the St. Joseph's Foundation's 2015 and 2016 golf tournaments, and the 2015 end-of-the-year appeal have assisted in allowing St. Joseph's Hospital to purchase this system."
For more information: Lisa A. Wharton, St. Joseph's Hospital Vice President of Marketing, Public Relations, & Foundation, 304-473-2138