Stephenie Kennedy named associate director of health disparities program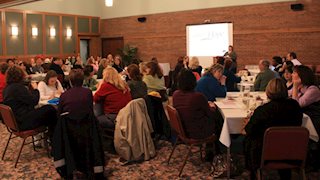 MORGANTOWN, W.Va. – Stephenie Kennedy, Ed.D., associate director for cancer prevention and control with the West Virginia University Cancer Institute and research assistant professor with the WVU School of Medicine, has been named associate director of the health disparities program at WVU.
Dr. Kennedy was appointed to this position by Sally Hodder, M.D., director of the health disparities program and associate vice president of clinical and translational research at WVU, and director of the West Virginia Clinical and Translational Science Institute.
Dr. Kennedy brings a wealth of experience in addressing cancer-related health disparities to the position, as well as her work in health literacy, Appalachian culture, and reaching rural, medically underserved populations. In this position, she looks forward to expanding her work to further address the health problems that disproportionately affect West Virginians thereby improving the health profile of the state.
Dr. Kennedy will oversee the growth and development of health disparities research. She will establish and expand partnerships across West Virginia and Appalachia to stimulate health disparities research and programming relevant to the region.
"I am honored to serve in this position and build on my experience in cancer prevention and control," said Kennedy. "We must produce research and programs that address health disparities to improve health outcomes and quality of life for the people of West Virginia."
Dr. Kennedy's appointment was effective August 1.
CONTACT:
Ian Moore
West Virginia Clinical and Translational Science Institute
304.581.1781