Back to

News
STEPS to host 10th anniversary celebration Dec. 12
Open house event will feature tours, refreshments and more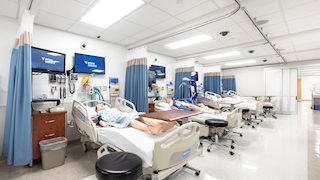 To celebrate 10 years of operation at the David and Jo Ann Shaw Center for Simulation Training and Education for Patient Safety (STEPS), an open house is being held Thursday, Dec. 12.
The University community is invited to socialize, to tour the facility and to enjoy some refreshments and giveaways from 2 to 4 p.m. at STEPS, located on the third floor of Health Sciences, South.
"STEPS' vision of promoting patient safety and improving health has been the goal from the beginning," said Daniel Summers, director of STEPS.
"In the past 10 years, STEPS has provided the next level of healthcare education to the schools of Health Sciences and beyond with over 130,000 learner visits. From beginner levels to the most complex scenarios, using cutting edge technology, we have been integral in educating the next generation of healthcare providers."
By providing a safe learning environment with fully responsive technology, STEPS students are safer and smarter before encountering real-life patients in everyday and critical care situations. The center provides educational support for all the schools within Health Sciences at WVU.
The David and Jo Ann Shaw Center for STEPS, a 19,000 square foot state-of-the-art facility, includes four ICU setups for lifelike manikins; two 10-bed open lab spaces for practicing nursing, BLS and ultrasound skills; 12 patient exam rooms for physical diagnosis and communication; a room for obstetrics and pediatric practice; a large surgical skills unit; and more.
For more information, visit steps.wvu.edu.