Stroke survivor brings hope to stroke patients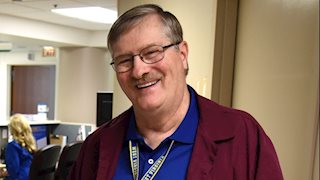 National Volunteer Week is April 23-29
MORGANTOWN, W.Va. – When Lee Green walks onto the neurological unit at WVU Medicine J.W. Ruby Memorial Hospital, he can hardly walk down a hall without being greeted or hugged. It's hard to say who benefits most from his presence: the patients, the staff, or Green himself.
Green had a stroke in 2013. Unlike the classic external effects, Green's symptoms were cognitive. He had to give up his pastoral role and his small business, two things he had worked much of his life to build. He spiraled into depression.
His wife Debbie pushed him to attend the Stroke Support Group at Ruby Memorial. Not long after he started attending, Martha Power, C-F.N.P., stroke coordinator for the WVU Stroke Center and a leader of the support group, approached Green about a new opportunity for stroke survivors to visit stroke patients in the hospital.
Green became the first to join the Stroke Volunteers Program in July 2016. There are now two volunteers and a third to join soon.
"I'll walk into the room and say, 'I'm a stroke survivor,' and that's all I've almost had to say sometimes. Their eyes light up, and they've got hope," Green said.
Hope comes up a lot when talking about Green's work.
"Family and patients will tell me, 'That gives me hope,'" Power said about seeing a stroke survivor like Green. "They see a future. When you're lying in that bed, you don't always feel that hope that you can get better."
Being a volunteer also allows Green to spend valuable time with patients and families that clinical staff is not always able to provide due to other responsibilities.
"People need people, and I hate that we're so busy. But, we are so busy that sometimes we don't have the time to spend with them and just talk for a while," Brandon Hostler, R.N., clinical preceptor on the floor, said.
As a former minister, spending time and talking for a while is one of Green's particular passions. He brings a joke, a friendly conversation, sometimes a prayer, and always an understanding ear, not just for patients but also for their families and caregivers.
Green will tell anyone that he has gotten as much or more out of volunteering as he's given.
"One of the steps of getting out of depression is when you get to a point where you start giving back," Green said. "I think that that's when I really started getting better. It gave me a purpose."
What no one expected from the Stroke Volunteer Program was the positive effect Green would have on the staff. He provides a unique brand of support and encouragement that staff members say helps them provide better care.
"We in the acute setting often don't get to see the long-term benefits or outcomes," Hostler said. "You wonder what happens to people, so seeing long-term survivors and good outcomes and people like Lee is inspiring for the staff."
"I think he makes us better, too, because he has made me understand some things I haven't always focused on," Power said. Green's candid sharing about his experience following his stroke has helped Power and others approach patients with greater understanding.
Green's impact is evident in how the clinical staff have embraced him. When he was awarded Volunteer of the Month in March, the nurses went in together on a cake and threw him a party.
The unit is looking for ways to share the Stroke Volunteers Program with other hospitals to encourage them to start similar programs to support their current patients and stroke survivors.
For his own part, Green plans to keep volunteering for a long time to come.
"You meet some of the best of West Virginia," he said. "The patients are inspiring themselves. I wouldn't want to not do this."
During National Volunteer Week, WVU Medicine–WVU Hospitals recognizes the more than 600 volunteers, including Green, who provided 28,911 hours of service to patients and guests in 2016. These volunteers make a big difference in a wide variety of roles, from the bedside to behind the scenes.
For information about volunteering or to apply, visit wvumedicine.org/volunteer.
The Stroke Support Group meets the first Wednesday of every month, 5:30-7 p.m., in Conference Room 3A/3B on the fourth floor of J.W. Ruby Memorial Hospital. For more information, contact Angela Schaffer, R.N., at 304-598-6395 or schaffera@wvumedicine.org.
For more information: Sarah Wisniewski, Communications Specialist, 304-293-7087