Stroke Symposium announced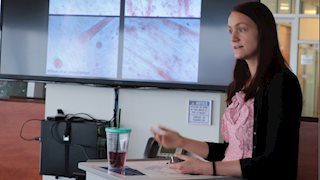 Sponsored by the NIH Stroke T32 Training program
The Stroke Symposium, sponsored by the NIH Stroke T32 training program, will be held on Friday, April 26th, 2019.
The keynote speaker will be Dr. Robert M. Bryan, Jr. who is a Professor of Anesthesiology at the Baylor Collge of Medicine, in Houston, TX. The talk is titled "The Gut Microbiome: A Fountain of Youth after Stroke".
Presentations by students will be given throughout the day along with faculty presentations.
The schedule of events are:
8:00am – 8:30am: Light breakfast and coffee
8:30am – 8:40am: Drs. James Simpkins and Elizabeth Engler-Chiurazzi, T32 Program Introduction
8:40am - 8:55am: Allison Brichacek, T32 trainee
8:55am - 9:10am: Savannah Sims, T32 trainee
9:10am - 9:25am: Dominic Quintana, T32 trainee
9:25am - 9:40am: Ariel Thomas, T32 trainee
9:40am - 9:55am: Russel Hardesty, T32 trainee
9:55am - 10:30am: Break & Poster Session
Poster presentations by students: Emily Burrage, Catheryne Gambill, Divine Nwafor, Tiffany Petrisko and Matthew Boots
10:30am - 11:30am: Dr. Robert M. Bryan, Jr., Keynote speaker
11:30pm – 1:00pm: Lunch
1:00 – 1:30pm: Awards & Photos
All events will take place in the 3rd floor conference room of the Erma Byrd Biomedical Research Building (301 BMRC).
Any questions on the event, please contact Dr. James Simpkins or Cassandra George.