Students inducted in the newly created Van Liere Research Society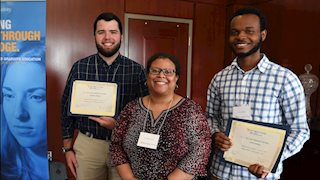 On July 21, 2016, the inaugural E.J. Van Liere Research Society Celebration was held at the Erickson Alumni Center. The reception was in celebration of the past and current first year medical INTRO students who were selected to spend their free summer after their first year in medical school to do either clinical or basic science research in a lab with a research mentor. This year the pool of chosen participants included first year medical students from WVU, Marshall University and the West Virginia School of Osteopathic Medicine. The young researchers celebrated alongside their mentors and key research administrators from all three schools.
This society was created in 2016 with robust support from Drs. Clay Marsh and Laura F. Gibson who recognized the need for a support network for young researchers interested in research beyond medical school. This network will hopefully strengthen relationships between future researchers and provide a nucleus around which to keep a working group of young clinical scientists engaged.
The society will be made up of the winners from the Van Liere Research Day (oral presentation) events held every spring and the first year medical INTRO fellowship students. The society is named after Dr. Edward J. Van Liere, who is revered as the "Father of the Health Sciences Center." Dr. Van Liere was the dean of the School of Medicine for 25 years where he expanded the curriculum from a two-year program to a fully accredited four-year program. He was instrumental in the creation of the Health Sciences Center in 1957. His personal philosophy was that "special attention must be called to research in any treatise deadline with medical education."
The E. J. Van Liere Society will induct new members at the end of each summer session.