Study of brain pacemakers aimed at slowing decline of Alzheimer's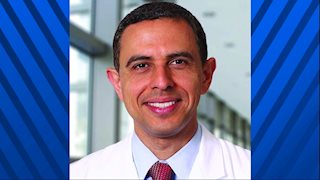 MORGANTOWN, W.Va. – A study published this week (Jan. 30) in the Journal of Alzheimer's Disease found that a brain pacemaker may slow the progression of the disease.
The clinical trials on the deep brain stimulation (DBS) implant were conducted by researchers at Ohio State University, led by neurosurgeon Ali Rezai, M.D. Dr. Rezai is now leading the West Virginia University Rockefeller Neuroscience Institute.
"This DBS brain pacemaker technology is commonly used to treat Parkinson's disease and tremor. Our study findings suggest that modulation of frontal lobe networks by DBS holds promise for improving connectivity, cognitive and functional performance, and should be further studied in Alzheimer's disease," Rezai said.
"Alzheimer's and dementias are devastating diseases affecting patients and their families. It is crucial to explore new options to help improve function, daily care and quality of life for these patients."
Rezai and researchers at the Rockefeller Neuroscience Institute are looking at many other aspects of treating Alzheimer's and other neurological disorders.
The WVU Rockefeller Neuroscience Institute incorporates both the building and programmatic elements of the former Blanchette Rockefeller Neurosciences Institute (BRNI) and is expanding to include the clinical, research, and academic missions of Neurosurgery, Neurology, and Behavioral Medicine and Psychiatry, among others. The Institute will spearhead efforts to develop innovative solutions for West Virginians and those across the world with neurological and psychiatric conditions ranging from Alzheimer's to Parkinson's; autism to stroke; and paralysis to chronic pain, addictions, and traumatic brain injury.
Findings of the study are published online in the Journal of Alzheimer's Disease, with more details on Ohio State's website.
For more information: Amy Johns, Director of Public Affairs, 304-285-7264