Summer Undergraduate Research Internship (SURI) program successful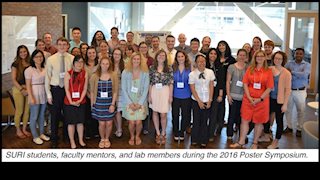 The 2016 Summer Undergraduate Research Internship (SURI) program has officially come to a close after a fun and successful season.
New this year, the SURI program concluded with its very own SURI Research Poster Symposium, attended by faculty, graduate students, and lab members. At the symposium, which was held on July 20 at the Media Innovation Center in the new Evansdale Crossing building, students delivered oral poster presentations to a panel of graduate student judges. As the judges deliberated over the scores, students and faculty had the opportunity to visit all the posters, to learn about the other research projects that our SURI interns were involved in this summer.
This year, the SURI program hosted 13 students from institutions from across the country. Students in the 2016 program were:
Kevin Chang from Vanderbilt University (Dr. Agmon's lab)
Anqi Jiang from Macalester College (Dr. Brefczynski-Lewis's lab
Pooja Warrier from WVU (Dr. Brown's lab)
Stacy Spitzer from Virginia Tech (Dr. Dacks's lab)
Kassandra Riggs from WVU (Dr. Daly's lab)
Patricia Doyle from WVU (Dr. Geldenhuys's lab)
Brian Tomblin from WVU (Dr. Gritsenko's lab)
April Garbuz from University of Connecticut (Dr. Kinsey's lab)
Chunyu Layla Wu from Purdue University (Dr. Kolandaivelu's lab)
Gabriela Valencia from Loyola University Chicago (Dr. Lewis's lab)
Katherine Pavlos from Gettysburg College (Dr. Lockman's lab)
Katherine Padgett from St. Mary's College of Maryland (Dr. Tucker's lab)
Tanner Filben from WVU (Dr. Yakovenko's lab)
The top posters, in no ranked order, selected as winners for this year's Research Poster Symposium were:



The full symposium brochure can be viewed here: 2016 SURI Research Poster Symposium.
A special thanks to our graduate student judges for making our first Research Poster Symposium a success!
For more information on the SURI program, visit the SURI program home page.