The 53rd Annual Van Liere Research Conference now accepting abstracts of research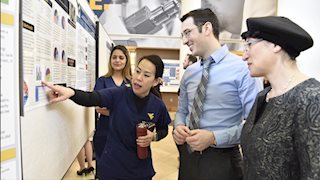 March 22 & 23
The 53rd Annual Van Liere Research Conference (formerly the Van Liere Research Day) will be held on March 22nd and 23rd here at the Health Sciences Center campus at West Virginia University. The conference features student research at West Virginia University and for the first time since the event began-from regional academic institutions.
On Thursday March 22nd, events will include oral presentations of research in both Clinical/Translational Science and Basic Science fields, and a special poster session featuring research from undergraduate students from surrounding states. The day will conclude with an opportunity for the undergraduate students to learn about graduate education at West Virginia University.
Friday March 23rd will begin with a poster session highlighting research from every school at the Health Sciences campus. The poster session is judged and winners will receive monetary awards. This is the largest poster session on campus and will be held in the Pylons lobby. Following the poster session, the plenary lecture will be given by Paul Offit, MD. Dr. Offit, a physician scientist who is an expert in infectious diseases, immunology, virology and vaccines, and is the founding director of the Autism Science Foundation. He's also chief of the Division of Infectious Disease and the director of the Vaccine Education Center at the Children's Hospital of Philadelphia. Offit is also the co-inventor of a rotavirus vaccine, RotaTeq, and was also a member of the Advisory Committee on Immunization Practices to the Centers for Disease Control and Prevention.
His lecture titled "Scientific Misadventures: Learning from the Past" will be held at 1:00pm in Okey Patteson Auditorium.
Abstracts are now being accepting for both the oral presentations and the poster session now until February 16, 2018.
For complete information, guidelines, and submission information, visit: http://go.wvu.edu/vanliere