The Wright Stuff: Passing along a little inspiration for 2016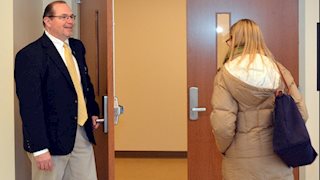 Let's Make a Difference
Inspiration arrives in many forms, and as we go through our daily lives, let's face it, there are some days when we need a little inspiration.
We're human. We have good days and bad days. In the healthcare field, we must be at our best every day. Quite simply, people are depending on us.
Maybe Randy Link had that in mind when he greeted me recently.
Many of you may know Randy to see him but might not know his name. He's one of the WVU Medicine concierges stationed in the lobby of Ruby Memorial Hospital and, for many, the first contact they have when entering the hospital.
Concierges play an important role here. They're greeters, ambassadors, navigators and, yes, inspirations.
I entered the hospital expecting the usual round of pleasant "good mornings," but Randy had something else in mind that day.
"Let's make a difference today," he said firmly with a smile.
Randy probably didn't anticipate how much his words would affect me. Not only did I use them as an inspiration for my day, but I have returned to them as one of my themes for 2016.
Randy's words took on even greater meaning when I made a recent presentation about WVU Medicine – Ruby Memorial Hospital's accomplishments in 2015. We're making a real difference in the lives of the patients and families we serve.
And we're caring for more patients than ever before. Discharges, surgeries, endoscopy procedures, ED visits and outpatient visits are all up significantly from 2014. We also saw a steep increase in transfers from other healthcare facilities.
Our opportunity to serve will be even greater in future years with the expansion of our facilities and the growth of WVU Medicine throughout the state and region.
As we continue to move forward in the new year, I'm challenging each of us to look at the bigger picture – the opportunity and responsibility that's in front of us.
I want us all to think of Randy's words and not only make a difference today – but every day.
Albert L. Wright, Jr.
President and Chief Executive Officer, WVU Medicine - WVU Hospitals
Chief Operating Officer, WVU Medicine