The Wright Stuff: Pitching in during trying times – it's what we do, who we are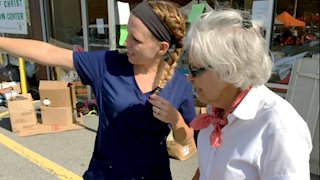 A message to the WVU Medicine-WVU Hospitals Family
Our mission is to improve the health of West Virginians and others in the region. It defines what we do every day and who we are – not only as an institution but as compassionate, caring human beings.
Our mission does not limit us to a regular work shift or specific locations, like Ruby Memorial Hospital, where people from all over the region seek our renowned care every single day.
This was never more evident than last week, when our providers and staff rallied to help West Virginians who were devastated by flooding.
In terms of job description, it was not something they were required to do. But as Mountaineers, it was something they simply couldn't ignore. It's a reflection of the type of people who work and live in this great state.
I'm very grateful to each and every one of the 73 volunteers – from Morgantown and Keyser – who answered the call to help, while also exemplifying our mission so beautifully.
We provided support for three flood-ravaged sites in Rainelle, Richwood, and Rupert, working closely with faculty, staff, and students at the WVU Health Sciences Center, at both the Morgantown and Charleston divisions.
Through an incident command center, which was open for eight days and 192 hours (June 27 - July 5), we coordinated volunteer efforts, which amounted to 792 hours of medical help from WVU Medicine physicians, nurses, and advanced practice providers.
We completed 104 assessments, including home visits for such disparate ailments as asthma, a dog bite, a sprained ankle, a rusty nail puncture to the back of the head, and much more. We helped people who had lost their medications in the flood waters, including diabetic patients. Keep in mind that the numbers don't give the complete picture: Unrecorded were the hundreds of home visits for well checks that our providers made and the hundreds of tetanus shots we administered.
Many employees who weren't physically at the flood locations also helped. The response to the flood relief collection at Rosenbaum Family House was overwhelming, with thousands of items donated.
To those who did journey to the flood sites, it may seem like a stressful endeavor, but for our providers, who change people's lives every day, it was a true labor of love.
When asked about the experience, Mary (Cricket) Russell, an RN at University Town Centre, had a beautiful summation:
"The 'feel-good moment' was the whole day."
Cricket gave tetanus shots and helped triage for William Rose, M.D., of the WVU Department of Emergency Medicine, who played a critical part in the relief effort. She could not help but notice the willingness to help, not just from WVU Medicine folks, but from people all over the state and beyond its borders. To her, it seemed almost miraculous.
"Every time something was mentioned that someone needed -- it appeared," she said. "We needed coolers -- a truck pulled in loaded with them. People needed boots -- they appeared. People just pulled into the parking lot and started barbecuing to feed anyone for free."
Cricket referred to the scene as a "blessing." As a witness and participant in a difficult recovery process, she thought of the West Virginia state motto -- Montani Semper Liberi, Mountaineers Are Always Free -- and extended its spirit to describe the cooperation and compassion she experienced.
"Free to find the good, do good, and be the good," she said.
I could not have said it better.