The Wright Stuff: Valets take generosity of guests to another level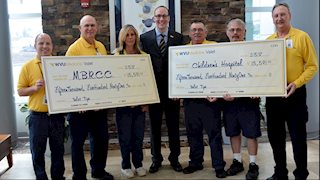 Last week, both the WVU Cancer Institute and WVU Medicine Children's received a check for around $16,000 – thanks to a generous effort from our valets.
The story behind these donations is truly inspiring and one of the reasons I can't talk enough about our great employees.
For those who are unfamiliar with the program, we employ 18 valets on campus and one at WVU Medicine University Town Centre. They park and retrieve vehicles for patients and guests and, along with our concierges, can be one of the first contacts our guests have with the organization. That in itself is enough for me to thank our valets and anybody who serves as a representative or "face" of our great institution.
But there's more to this story. Many times, our guests feel compelled to tip our valets, even though we post signage and our valets assure them that tips are not expected. Sometimes our kind visitors insist on giving a gratuity anyway, and when they do, the valets let them know that each tip is put into a collection that is dedicated to enhancing patient care. Our patients, families, and guests are "paying it forward," and our valets do it again!
When you think about this, it's the ultimate win-win. It speaks volumes about the kindness of our guests, who, in a general way, are expressing their appreciation for the way they were treated and cared for here. Our valets simply turn one selfless act into two by adding to the collection.
Our valet service extends back more than 20 years. At first, it was mainly a service for our cancer patients. The service has since expanded and, for the past seven years, WVU Medicine valets have collected close to $150,000, in total, for the WVU Cancer Institute and WVU Medicine Children's.
This commitment is greatly appreciated and, typically, money donated toward any kind of healthcare
effort works exponentially. For instance, one donation may pay for a piece of equipment, extra staff, or another resource that helps hundreds or thousands of patients. So while we can calculate the amount of money in dollars and cents, this type of generosity truly is incalculable.
I salute each and every one of our valets who have committed to this wonderful, ongoing initiative. I'm also grateful to our patients, families, and guests who are gracious enough to insist on helping. They are probably not even aware of how their small act of kindness contributes to the care of many, many individuals.